<< Return to Charts Table of Content
Covenant Faith Charts & Illustrations
Do You Know Jesus - Elements Wheel
Do you know Jesus? The Element Wheel is a ground breaking illustration will help you to learn what it means to know Jesus—to really know Him! Believers think they know Jesus because they read about Him in the Bible and acknowledge that those things written about Jesus are true. But you can't build a relationship with the text, nor can you eat the paper. God wants us to eat of His living bread. If you have been dining on the paper it is going to leave you empty of His life. (John 6:35)
Do you want to know Jesus? Start anew. Allow your faith to be reborn in Christ. Learn how to know Jesus in a new and living way. LEARN JESUS! The Elements Wheel will help you make the connection between the 12 Elements of the Gospel and Jesus Christ.
Here is a useful illustration to help you understand how vital the Elements are for you to know Jesus: Everyone knows what a DVD player is and how, when you hook the player to a TV set and place a DVD into the player you can watch a movie on your television set. Think of the DVD as the plan of God (the Gospel of Jesus Christ) and the DVD player as the Bible and the TV set as the 12 Elements of the Gospel.
The TV set allows you to see the image engraved on the DVD. It would be no use to have the player and the DVD, but no television set. The same is true for faith. People have trouble seeing the reality of Jesus because they don't have the understanding of the 12 Elements of the Gospel. They know what the Bible says, but they don't know Jesus because He is seen through the 12 Elements.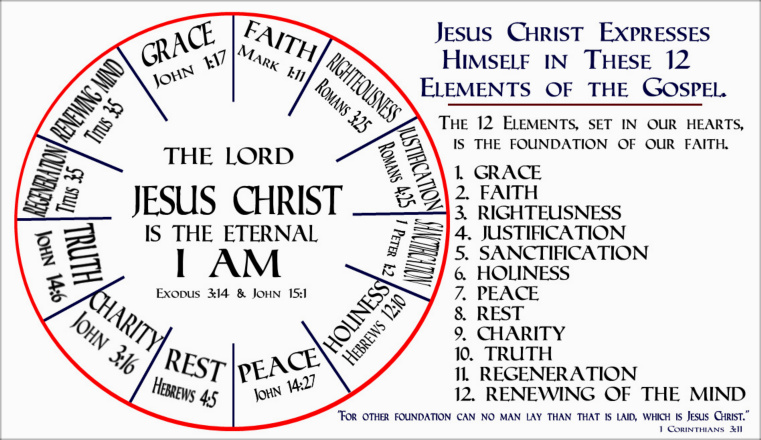 << Return to Charts Table of Content
Designed By Chief Teacher Maria vonAnderseck | Copyright 2018 Second 8th Week Ministries