Did you know that God takes ownership of your soul when you are in covenant with Him? This Bible study course is written to aid a Christian to understand God's plan for them to come into covenant with Him. Because the Bible talks about two major covenants, we need to identify the covenant God is actively working with now. This course will compare the First Covenant to the Second Covenant so that you will be clear about which covenant God now honors.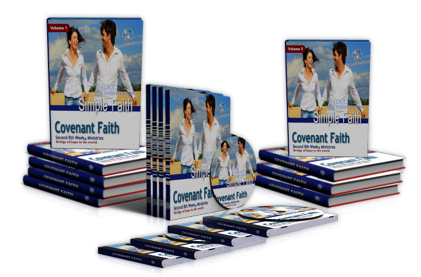 We will learn what the word "covenant" means to God, why faith must be restricted to a covenant, and why God transferred the covenant from Moses to Jesus. We will also understand the significance of Moses sprinkling the blood of an animal upon the tools of the First Covenant to understand why God sprinkled Jesus' blood on His covenant tools.

Did you know that God does not accept you that way you are—He accepts you on the terms of His covenant for which Jesus shed His blood, the New Covenant, the house of Jesus Christ. Covenant theology is made simple through the use of charts and illustrations.

This course will help you begin to understand the covenant that Jesus purchased with His blood, and make vital connections between your faith and His covenant tools. Christ came to give us new knowledge, new tools, and a new law and power over sin. Find out what your faith is yoked to, what a Hagar Faith is, and how God designed your soul to increase in the likeness of Christ through contact with Him. Everything you need to know about the importance of the New Covenant is in this course.

This exciting course is divided into eleven (11) lessons, followed by 2 additional Study Guides: Getting a Fresh Start and Summary Notes, both of which are packed full of information that will assist you in your faith. You can use the review questions at the end of each lesson to help you get the most of your studies. Even though several answer choices may be true, students must identify the choice which has the most support in the lesson.

I am confident that as you prayerfully study this course God will issue grace for your understanding and grant you an experience in Him for your spiritual growth. If you have any questions, please submit your questions in the contact form. A member of the coalition of apostles, prophets, evangelists, pastors, and teachers of the Second 8th Week will reply as soon as possible. All scripture quotations are from the King James version of the Bible.