Apostles Today
Why are so many Christians looking for ways to go back to the first century church? What do they see there, that they're not seeing or experiencing in their own present "walk of faith"? Christians want to operate as the first century church because they seek to return to the purity of the faith that comes with apostolic government and desire to really know Christ and experience His presence and power in their lives, with the assurance that they are walking with and truly being led of the Spirit.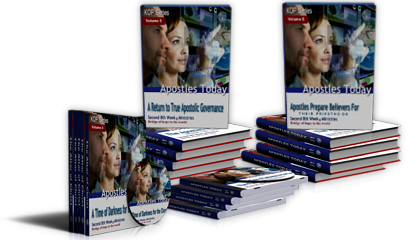 They have grown weary of carrying the yoke of a stagnant faith and desire to partake of Christ and experience His fullness. We have all heard these messages: "The Lord is challenging the way we have church, challenging us to come into one faith, and to learn about spiritual government." Many have responded to that challenge by simply inventing new ways to have church, new ways to try to touch God and activate Him to move, hoping He will give them the understanding they are seeking and explain their paradoxes of faith and their powerlessness over sin.
Others have dealt with the paradoxes and stagnation of faith by reinventing old faith models, simply trying to fill in the cracks of old crumbling foundations; but when these things did not work, believers remained frustrated and confused, "hitting the wall" as far as their Christian growth is concerned. Unable to achieve divine transformation through Jesus Christ and tired of "unrealized promises" they've been asking, "why is the power of God not the reality of what we are living" as we read in the Bible, "For the preaching of the cross is to them that perish foolishness; but unto us which are saved it is the power of God" (1Cor. 1:18).They are perplexed, asking, where is that power of God "unto us"? How do you transfer the promises of God from the pages of the Bible to reality?
This is why many are leaving the church; they are looking for the empowerment of the Spirit, and they desire to know Jesus Christ and understand and live by His expectations of faith. This is also why many Christians long for the manifestation and operation of apostles today.
This exciting course is divided into eleven (11) lessons, followed by Vocabulary Words and a Review that will lead you through a series of questions and answers and teacher feedback. You can use the review to help you get the most of your studies. I am confident that as you prayerfully study this course God will issue grace for your understanding and grant you an experience in Him for your spiritual growth. All scripture quotations are from the King James version of the Bible.
Lessons in the Apostles Today Study Course
Last Revised: