Priesthood and Prophecy
Virtually nothing of the Christian priesthood is visible in the church today. If we were to ask the modern Christian what it means to offer up spiritual sacrifices to God, most would shrug their shoulder in ignorance. Worse than that, an almost equal number of believers would draw from themselves a fleshly offering of the soul for God.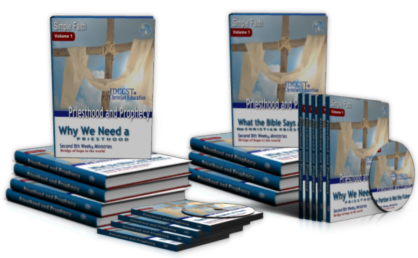 The good news is that the early church knew all about the New Testament Christian priesthood and how to serve God and so can you. The last course helped you understand why the Bible talks about a New Testament altar of faith and showed you how to build one with the 12 Elements of the Gospel. You learned the importance building the altar of Christ with whole stones so that our faith would be pure and that you would know how to serve God acceptably. In this course we are ready to tie the altar to the priesthood and prophecy to learn how God intended for you to function as a Christian priest.
In previous courses did touch on a few basics about the priesthood: how it is tied to government, how apostles cleanse believers with the knowledge of truth to prepare them to function as priests. We learned how faith is proved at the altar of Christ and that there is an outflow of grace, power, and fruit that can be expected by our simple obedience to serve God properly at His altar.
Additionally, we learned that it is through the Spirit that we mortify the flesh. Meaning that our putting off of the old man and putting on the new man is done at the altar of Christ. The Christian priesthood is a major artery of your faith, it is tied to virtually every major function of your faith. Did you know that spiritual warfare is tied to your priesthood? Lacking this vital knowledge, is it any wonder that believers in Christ are confused and taken advantage of by the devil? Learn more and free yourself from Satan's snares, learn how to be consistent in faith and develop strong faith muscles.
This exciting course is divided into eight (8) lessons, followed by 2 additional Study Guides: Getting a Fresh Start and Summary Notes, both of which are packed full of information that will assist you in your faith. Y
ou can use the review questions at the end of each lesson to help you get the most of your studies
. Even though several answer choices may be true, students must identify the choice which has the most support in the lesson.
I am confident that as you prayerfully study this course God will issue grace for your understanding and grant you an experience in Him for your spiritual growth.
All scripture quotations are from the King James version of the Bible.
Lessons in the Priesthood and Prophecy Study Course
Last Revised: