The Elements of the Gospel
This course introduces you to the 12 Elements of the Gospel, the ABCs of the covenant. To learn to speak God's covenant language, a believer must learn the 12 Elements of the Gospel. We know that the purpose of every alphabet is to make words. We know that Jesus is the Word of God. In this course you will learn how God uses the Elements of the Gospel to communicate Christ to us.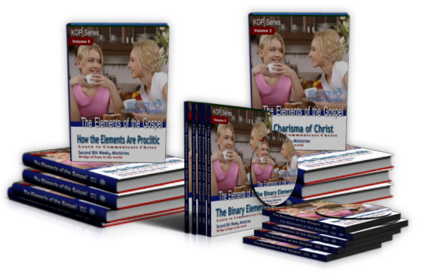 If you have ever been in a foreign country and do not speak their language it can be difficult. It is impossible to significantly interact with others to complete day-to-day operations when there is a language barrier. You soon begin to understand why it is beneficial for you learn to read and speak the language of the people to properly communicate with them.
That being true, the first thing most people do when they go to a foreign country is get a base of knowledge. They learn about the language, custom, and currency of the country they are visiting or moving to. Well, when we come into covenant with God we become citizens of heaven and need to learn how to speak God's covenant language. God starts you off by teaching you your ABCs.
Just as every letter of the alphabet has value, and knowing the value of the letter helps us know how to place it in a word, each Element of the Gospel possesses a certain value of Christ. Knowing that value helps us to place that Element, thus helping us to express or communicate Christ and identify His work in us.
You will learn how each Element is designed by God to express Christ. Special icons are designed to help you easily identify and learn each Element and the meaning and action behind them. Icons are pictorial representations of each Elements that visually communicates their meaning.
In addition to learning how to place each Element in God's alphabet soup, you will also learn how the Elements work in pairs (binary) and how they work as a whole and easily apply this to your salvation.
God has made it abundantly clear that salvation is the process of bringing man back to Himself. Sin separated man from God and salvation is the act of God coming in the flesh to establish Himself as the contact point to join man back to Himself.
God uses words such as: "covenant" to describe that salvation needs terms that man agrees to; "tether" to describe that salvation is the act of God joining man back to Himself; "faith" to describe man's participation in salvation; "fruit" to describe God's purpose for joining Himself to man; "Spirit" to describe the power needed to affect this divine change; "circumcision" to describe salvation as a transition whereby the old man dies as the new man emerges.
Salvation is in a person, Jesus Christ. The 12 Elements of the Gospel describe the work of our redemption in the person of Jesus Christ. Christ is seen in the design of each Element, fulfilling the plan of God to join you to Himself, free you from sin, heal your soul of Satan's scars, and create the likeness of Christ in you.
Finally, as you observe the specific composition and structure of the Elements of the Gospel and their behavior (reaction) and the changes they undergo during cycles of growth, you will begin to also make a comparison between the Elements of the Gospel and chemistry to understand God's intelligent design for each Element.
You will be helped to think about the reaction of grace upon faith, the reaction of charity upon truth, the reaction of holiness upon righteousness, the reaction of sanctification upon justification, and so on.
This exciting course is divided into four (4) lessons, followed by a Study Review. You can use the review to help you get the most of your lessons. I am confident that as you prayerfully study this course God will issue grace for your understanding and grant you an experience in Him for your spiritual growth.
All scripture quotations are from the King James version of the Bible.
Lessons in the The Elements of the Gospel Study Course
Last Revised: