The Elements of the Gospel
This Bible study course is written to aid a Christian to have a basic understanding of the Elements of the Gospel in order to comprehend what they are reading in the Bible. For example, one needs to understand what grace is to know what God is saying in this verse: "For by grace are ye saved through faith; and that not of yourselves: it is the gift of God" (Ephesians 2:8).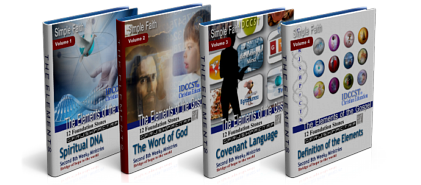 The Elements of the Gospel is the record of Christ, which pattern of knowledge is God's DNA. As DNA is the pattern that carries the genetic code from parent to child, and is thus the recipe for life, so also is the record of Christ God's recipe for life in Him. Exploring the way spiritual life works by studying the 12 Elements of the Gospel is the greatest adventure of all. We learn how to take on God's mind and take on the likeness of Christ.
The Elements of the Gospel are God's building blocks of knowledge. You need knowledge for faith, and that knowledge needs to identify Christ so that you can observe Christ, and then reflect Him perfectly. For you to identify, observe, and reflect Christ, knowledge needs a frame. Faith needs a house in which to function.

Knowledge also needs tools because faith needs to be expressed. Faith needs to take an action for you to enter into your rest. Knowledge labours to reciprocate to God so faith needs an altar to reciprocate His likeness that you may partake of His divine nature and grow in Him.
Finally, the language of the Spirit is expressed by the Elements of the Gospel. God gave us language to allow us to consider the process of the Spirit to ignite the knowledge of Christ. Christ is being formed in you only because the Spirit is giving life to the pattern of truth.
This course is divided into seven (7) lessons. followed by 2 additional Study Guides: Getting a Fresh Start and Summary Notes, both of which are packed full of information that will assist you in your faith. You can use the review questions at the end of each lesson to help you get the most of your studies. Even though several answer choices may be true, students must identify the choice which has the most support in the lesson.

I am confident that as you prayerfully study this course God will issue grace for your understanding and grant you an experience in Him for your spiritual growth. All scripture quotations are from the King James version of the Bible.
Lessons in the The Elements of the Gospel Study Course
Last Revised: