This Bible study course is written to aid a Christian to have a basic understanding of the spiritual tools of Jesus' covenant. Decades of Christian teaching about how to touch Jesus, the importance of proper worship, and the assurances of God's involvement in our lives, yet according to a 2005 Christianity Today International/Leadership Journal, Pastor Zander is quoted as saying:
As pastors we're doing what we've been told, but we're preaching a very narrow gospel. We've been throwing a lot of seed, but it's not taking root, it's not producing fruit. We are not seeing people's lives transformed. There is a growing sense of failure among the church leaders I talk with, and we are looking for something more meaningful.
["The Apprentices." Christianity Today: International/Leadership Journal (Summer 2005), vol. XXVI, no. 3, p.20. Retrieved August 16, 2005 at http://www.christianitytoday.com/le/2005/003/2.20.htm
l
]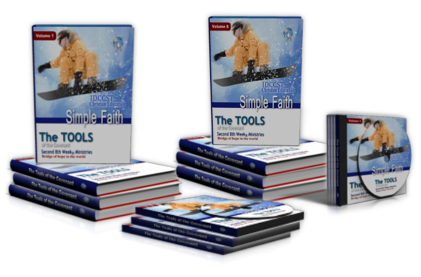 I am sure that you would not be surpised to learn that this situation has not improved over the last 6 years since that statement was originally made. The questions is, why are pastors reporting failure to grow Christ in the hearts of the people? If the Bible is being taught, why aren't lives being transformed? The answer is very simple: Christians have forgotten how to touch Jesus with the tools of His Covenant, and as a result, they are not experiencing a relationship with God, Jesus is not mediating the covenant on their behalf, and no regeneration is taking place in the soul.

If you feel as if the throne room of God has a "Do Not Disturb" sign every time you knock on the door, if you are frustrated with your Christian growth and feel as if you are not able to reflect the nature of Christ as you would like, if you feel you are going in circles and not really advancing in your personal growth, then this course is for you.

We are going to study the importance of the tools of Christ's covenant, learn what they are, compare them to the First Covenant tools, and find how they are different, how they work the value of Christ in the soul, and what you can expect when you engage God with the tools He sprinkled with the blood of Jesus Christ. You know, many people desire a Christ-centered faith, but in reality their faith is not centered on the things of Christ. In many cases it is still centered on the things of Moses. This is why lives are not being transformed.

This exciting course is divided into ten (10) lessons, followed by 2 additional Study Guides: Getting a Fresh Start and Summary Notes, both of which are packed full of information that will assist you in your faith. You can use the review questions at the end of each lesson to help you get the most of your studies. Even though several answer choices may be true, students must identify the choice which has the most support in the lesson.

I am confident that as you prayerfully study this course God will issue grace for your understanding and grant you an experience in Him for your spiritual growth. If you have any questions, please submit your questions in the contact form. A member of the coalition of apostles, prophets, evangelists, pastors, and teachers of the Second 8th Week will reply as soon as possible.

All scripture quotations are from the King James version of the Bible.