The Altar of Christ
You've heard it before and maybe you've said it yourself, "Lord, I give my life to you, show me how to live it and how to be the person you want me to be. I give my issues and habits to you and ask you to please change me!"A lot of people are willing to lay aside the things they think offend God, they just don't know the how-to's of it; they fast and give up things, thinking God will give them strength, but the release does not come. They were taught: If you have a problem with anger or gossip, look at the scriptures that speak about these things, take the scripture to heart, and then God will do a work there.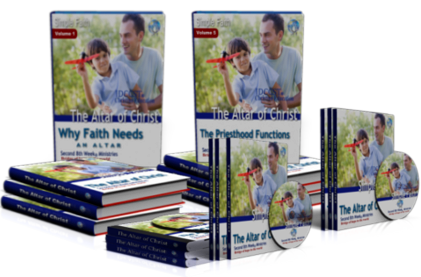 But where is the power? I have heard it over and over again, Christians saying, "I am going in circles with this thing! I just keep coming back to the same point of bondage—nothing changes! I feel so defeated!"

Don't let that happen to you! Decide that you will take the steps you need to walk with God as He planned. God is not playing tricks on you, telling you that you can live for Him while all the while knowing that you can't.

The answer is in your Christian priesthood. It is so important for every believer to understand their spiritual priesthood and how powerful it is. This course "The Altar of Christ" is your first step towards building faith on the solid ground of the priesthood and learning how to offer spiritual sacrifices to God.
We're going to be talking about two altars in this course: The Old Covenant altar made of stones, which pointed to Christ, and the New Covenant altar, made of knowledge, which is Christ Himself.
In previous courses we talked about knowledge as wood to be set in order to build the house of the Second Covenant. In this lesson you will learn how the knowledge of Christ is also as stones of Jesus' altar. You will learn why your faith needs an altar, and how it is built with knowledge. You will also learn about false altars, and how to overcome the altar of self.
We will compare the Christian priesthood to the Levitical priesthood to gain insight into the design of our service to God today and the true blessings of our faith when we serve God at the altar of Christ. Did you know that the battle for your mind is fought and won at the altar of Christ? Because the altar of the Lord is constructed with knowledge, your thinking is conformed to Christ and Jesus is the frame of our thoughts.
This exciting course is divided into eight (8) lessons, followed by 2 additional Study Guides: Getting a Fresh Start and Summary Notes, both of which are packed full of information that will assist you in your faith. You can use the review questions at the end of each lesson to help you get the most of your studies. Even though several answer choices may be true, students must identify the choice which has the most support in the lesson.

I am confident that as you prayerfully study this course God will issue grace for your understanding and grant you an experience in Him for your spiritual growth. All scripture quotations are from the King James version of the Bible.

Lessons in the The Altar of Christ Study Course
Last Revised: