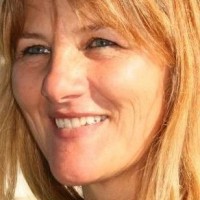 Evangelist Connie van Wyk
Visit Evangelist Connie van Wyk's Blog
Warm greetings in the sweet name of our Lord Jesus Christ...
We are truly living in exciting prophetic times where we clearly see the plan of God unfolding through the many end-time judgements He is now pouring out upon all the earth. Growing up, these things were often talked about, but now the evidence of the closeness of time of the second coming of Jesus Christ is a sure reality.
Worldwide there is a great awakening in the hearts of millions of people and they KNOW, there is a need to prepare themselves for the day of the coming of the Lord Jesus Christ who is coming to fetch His beloved Bride in the rapture and to save them from the time of great tribulation that shall come upon the earth .
No great destruction has ever taken place without the Lord first clearly showing the people their error, giving them time for repentance and then after He has done that... His Judgements!
Having been part of Second 8th Week Ministries for the last almost 12 years has been a sure blessing! The Foundation Knowledge God is providing through this ministry, brings sound and wholesome direction for the Faith of many seeking believers worldwide and teaches them what it means to be joined to God in Covenant. It is a privilege to be part of this great end-time work of God as He brings in His End-time harvest of souls now in these final days.
I was reminded of a dream the Lord gave me some years ago where I was standing on the highest point on a mountain of solid rock. The earth was like a big ball in front of me but it was dark and you couldn't really see anything much. As I was looking over the earth, I picked up my arms to my shoulders and at this point they became ice white wings. I waved my wings over the earth and layers and layers of light covered and lit up the earth. In the dream I heard the Lord speak these words to me "I'm going to make you a Beacon of Hope on a mountain of Rock".
Through similar revelations of calling God has brought together the Coalition of Apostles, Prophets, Evangelists, Pastors and Teachers of the Second 8th Week that forms His true Spiritual Government for the purpose of bringing to the world the End-time Restoration of His church and long promised gift of the Healing of the Nations!
Jesus Christ is returning for a spotless bride, a church united as ONE in the true bond of His Grace and Truth! I encourage you to allow God to cleanse and purify you in this time from all things that does not reflect the likeness of Jesus Christ in your Faith and also within you. Start today and become part of His End-time restoration and healing by empowering your faith with knowledge that will make your relationship and walk with God a living day to day reality, and a faith that is truly empowered by his Holy Spirit!
Begin to learn about Covenant Faith, the Priesthood of Jesus Christ and what the Knowledge, Tools and Sacrifices are that we need to know and understand how to be able to work out your own salvation with fear and trembling before God. As we see the day of the Lord fast approaching with a sure knowing, do not delay to enrich your soul with Living Knowledge that will allow you to walk in the surety of your salvation in the true Liberty and Confidence of God that comes by His Holy Spirit of Grace and Truth!
The Grace of God daily nourish and sustains the hearts of those who keep strong their tether to His Government, Truth and Holy Spirit.
May the Grace of God be with you richly as you continue to seek Him with a humble heart.
In His Light ~ Evangelist Connie