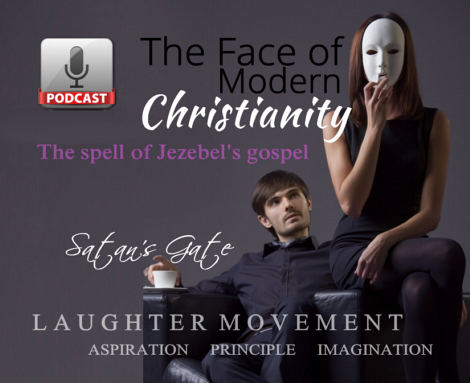 The Face of Modern Christianity
By Apostle Eric vonAnderseck
How much has the face of today's Christianity changed from the original gospel of Jesus Christ? What is the religious media attempting to hide from you? Find out what they despise and fear. Listen to my podcast to hear God's message to today's church.
God reveals: "The tradition of man has spoiled my knowledge." And for this, those who are claiming to be His, but are not walking in the priesthood nor in the covenant of Jesus Christ will be broken off.
And those which have been engrafted in, if they don't continue to remain engrafted within that true vine, their leaves also will begin to turn brown and their fruits will begin to spoil and fall away. By damage of the false knowledge of this world as the frost or the insects.
Listen to the message I delivered in full February 14, 2016.
CLICK HERE
.
7 Life changing bullet points from the message:
1. Why the wealth gospel that is preached by so many is a lie. The prophets of Baal prophesy greed for your peace and security.
2. Why the health and wealth gospel, while promising liberty, is oppressive and brings God's people into servitude.
3. How the church lost her covering.
4. The doctrine of the Nicolaitans defined. God reveals where it is found today in the church.
5. The gospel of aspiration is infected with sores.
6. Do you know who will survive the coming Tribulation?
7. What is the true sign that we are in the latter days?
God again speaks against the modern twisting of prophecy towards the flesh that is practiced by so many ministers openly today without shame. God is turning the tide on psycho-phecy, which He calls a "childish, delusional gospel" as psycho-phecy affirms covetousness as good and the true charity of God that is seen in the priesthood, as evil.
God again smites the laughter movement as the devil raises up the head of that monster again to take captive souls: "That which is of their laughter, God says, turn your laughter into mourning. Laughter requires no soberness of mind. Laughter is the result of indulgences of wine (the wrong knowledge). Because the false religious system is drunken with false knowledge, they are laughing."
- Do you have the God perspective? God is saving many souls from Satan's gate. Join us today as God breaks the spell of Jezebel's gospel.
_____________________
[Eric vonAnderseck serves the Body of Christ as a confirmed Apostle in the government of God. He is the founder of Second 8th Week Ministries & founder of the Network of Apostles Today. He is the IDCCST® Christian Education Curriculum author and author of over 100 ground breaking books and articles, spearingheading the return of the apostolic calling and anointing to the church.
Apostle Eric ministers extensively nationally and internationally. He is the pioneer of the new apostolic age and recognized as the leading authority in the fields of church growth, foundation building, spiritual gifts and spiritual warfare, and the leading voice in the transition of the church into the new apostolic season and reformation.]
Last Revised: 2016-06-19