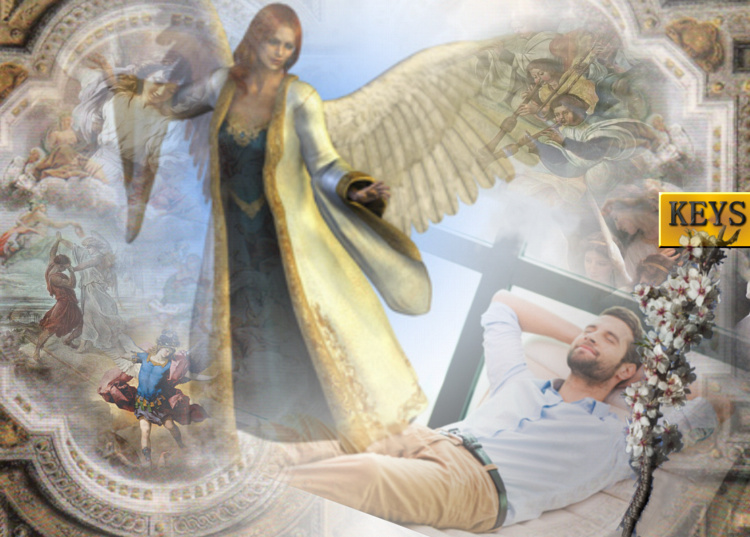 The Budding Staff of the Apostle
By Apostle Eric vonAnderseck
The good news is that the church is now in a new apostolic era. God introduced the rod that He has caused to bud, bloom, and produce sweet almond. You might remember that it was Aaron's rod that manifested this sign and power in the presence of those spiritual leaders who challenged Moses' authority. (Numbers 17:1-10)
In chapter 16 of Numbers we learn that it was Korah, the son of Izhar, the son of Kohath, the son of Levi, and Dathan and Abiram, the sons of Eliab, and On, the son of Peleth, sons of Reuben, that rose up against Moses to object to God having selected him to preserve the children of Israel, to lead them out of Egypt, to provide the blueprint and law of the covenant, and to oversee this great work.
As independent voices they united against Moses to remove his stewardship from them, saying, "Ye take too much upon you [Moses], seeing all the congregation are holy, every one of them, and the
Lord
is among them: wherefore then lift ye up yourselves above the congregation of the
Lord
?"
The Independent Mindset
The bottom line for independent ministries is not the will of God, nor the mind of God, nor the plan of God, but to push forward spiritual agendas to farm out faith. One minister focuses much on prayer and calls the church to increased prayer while another minister calls out to believers to focus on fasting and another minister says that God revealed to him that correction needs to take place. He says that some things might seem good to us, but they are not God's best, but he doesn't really guid believers into the covenant of our Lord.
So the average believer, looking at faith being farmed out here and there, can agree to each concept. He can understand the principle of prayer, the principle of fasting, and the principle of weighing our choices. But what happens when faith is farmed out?
[Listen to the audio teaching "The Budding Staff of the Apostle".
CLICK HERE
.]
You guessed it! Faith is NEVER whole. The purpose of the restoration of the office of apostle is to restore the whole foundation of truth as Jesus gave it, to restore the way in which faith functions wholly to express and reflect Jesus Christ in His gifts, calling, and the manifold graces of God.
When independent ministries and columnists try to correct the church you will hear them say that we need a little more of this and a little less of that! Or maybe you might hear them say that we just need to "let God do it!". These are not leaders. This is not spiritual leadership, nor is it correction.
Many well intentioned people, seeing the vacant seats in the offices of God's government decided to volunteer themselves. We see a clear example of this in the false prophetic movement. Taught to speak from the volume of their own hearts, one frames prophecy to self fulfilled events. For example, prophesying that God will move mightily and then announcing you've scheduled "revival meetings" to fulfill that prophecy.
It's like inviting your friends to come to an event you are throwing together. You promise they will enjoy a great 5 course meal and claim they will be delighted and entertained. You promise that if they come they won't be disappointed. Your friends know you can't cook—you're not a chef.
Overcome with much curiosity and not wanting to miss out on this great opportunity, they come. Not knowing you're hired a team of chefs and entertainment for the night, they wonder at everything you've paid out to deliver on your promise. And you can confidently say, "Didn't I promise you a great time?" Their prophecy was self fulfilled.
Pulling Back the Curtain

Believers are beginning to understand what happens behind the curtain at so called revival meetings. Ministers are fulfilling their own prophecy. They say, The Lord lives! but profane the name of the Lord by false prophecy. They vow God's existence, but disallow the covenant by which the power of God is made known.
False ministers use events as a sign that God is with them. If it rains they claim this as a fulfillment of prophecy. If it doesn't rain they claim that as well as a fulfillment of prophecy. But God sends rain on the just and upon the unjust (Matthew 5:45). This is to bring to pass His Word that He is a compassionate God. He's not doing this to confirm the aspiration of man. Consider the word of Lord through Jeremiah.
"How shall I pardon thee for this? thy children have forsaken me, and sworn by them that are no gods: when I had fed them to the full, they then committed adultery, and assembled themselves by troops in the harlots' houses." (Jeremiah 5:7)
In other words, the false prophets of today are as the false prophets of yesterday. They too had conventions and rallies to promote their own visions and philosophies of life. That's the harlot's house. We see that in the book of Revelation – the Mother of Harlots – which has to do with the many philosophies of the hydra.
Another way you can discern false prophecy is when ministers take apart random words or phrases to reverse engineer prophecy. These Korah type leaders snatch prosing words they hear spoken through the lips of those in their own ranks and try to turn these prose into prophecy as if to demonstrate that they have the mind of God – Like taking a few isolated thoughts from a note Billy Graham wrote to Trump and then using that note to promote a "word" from God. That's prosing. That's not prophecy.
Another way you can discern false prophecy is when ministers prophesy to your feelings saying, for example, "Run to Me. When you feel discouraged, run to Me. When you feel frustrated, run to Me." This is another good example of prose confused with prophecy. This is not true prophecy.
While it is true that in Christ we receive peace and rest, God placed these power tokens in Christ. So when not directing faith to the Jesus' covenant knowledge and tools, believers run with their emotions, but their faith is running on empty. Don't let that happen to you.
The Rod of Correction Also Brings Comfort
True correction comes through the office of the apostle. God gives order to truth and therefore the function of faith represents Jesus wholly. The Lord pointed out the significance of the rod in regards to the apostolic calling. In 1977 He called me to the office of the apostle saying these words, "I have called you as an apostle." And then in 1978 the Lord spoke to me saying, "Wait till your rod buds." We are in that season now.
The message I delivered April 17, 2016 is key to understanding the calling and purpose of apostles today. As God opens hearts towards receiving this shift and transition, many want to know how to discern a true apostle from a false apostle. We come to understand more fully God's reference to the apostle as His rod.
The rod is a unit of measure that establishes an authority and scale, and being sanctified by God also establishes a point of division between the sheep and the goats. God showed us this through Jacob's victory over Laban, thus introducing this parable to teach us what He is doing in the church today. God put a sign and wonder in this token for deliverance and salvation.
The apostle is the rod of reproof and staff of correction. God established this sign for the restoration and comfort of the church. As long as independent & denominational ministries ruled, believers could not escape the influence of Satan's philosophies and fell victim to his wiles. Why? Because the rod of God's stewardship was missing.
Restoration of the Ministry of Angels
As God brings to life the calling, grace, and function of apostles we are also seeing a restoration of the new covenant, the restoration of the tools of the covenant and the priesthood of each believer. We are also witnessing the restoration of the ministry of angels. I have had several visitations of angels over the past 40 years. The most recent was April 25, 2016.
I awoke at 4 a.m. after this divine dream to record this experience the Lord granted. In my dream I was in a large room and portrayed on the walls and ceiling were painted images of angels. The paintings came alive and one of the angels came down and kissed me. My lips burned and I thought of the angel sent to Isaiah to touch his lips with the hot coals of the altar to sanctify him. (Isaiah 6:6-7)
Waking up immediately dew fell upon my lips and the Lord pressed the right and left side of my head. He blessed the understanding for it to prosper. This the Lord communicated to me as I requested when in the 3rd heaven before He formed me in the womb.
Daniel, the servant of the Lord, had a similar experience, "And, behold, one like the similitude of the sons of men touched my lips: then I opened my mouth, and spake, and said unto him that stood before me, O my lord, by the vision my sorrows are turned upon me, and I have retained no strength." (Daniel 10:16)
I'm not talking about just seeing angels, but understanding God's purpose for them in regard to your faith just as Apostle John testified of saying, "The Revelation of Jesus Christ, which God gave unto him, to shew unto his servants things which must shortly come to pass; and he sent and signified it by his angel unto his servant John." (Revelation 1:1)
To clarify, we're not talking about your signature angel. That angel works with you in regards to your signature skills and talents to oversee the unfolding of events that God inscribed in your heart even before you were born. Your signature angel is most commonly referred to as your guardian angel. God assigned a signature angel to each soul.
I'm not talking about that common experience of all humans, but rather how God assigned angels that oversee your spiritual growth. That's a different matter. Those are different angels. These angels are assigned by God to carry the grace of God to you when you are in covenant with Him.
Hebrews 1:14, "Are they [angels] not all ministering spirits, sent forth to minister for them who shall be heirs of salvation?"
In Hebrews 12:1 the Spirit of the Lord instructs the church, "Wherefore seeing we also are compassed about with so great a cloud of witnesses [angels], let us lay aside every weight, and the sin which doth so easily beset us, and let us run with patience the race that is set before us."
Apostle Paul Warns Against Worship of Angels
When not understanding the link between God's angels and His delivery system for us to daily receive His grace, many fear that the teaching of angels is akin to worship of angels. On the contrary, it is in the absence of sound teaching that the "sightings" of angels redirects faith to confirm one's passions. The Holy Spirit instructed Apostle Paul who in turn instructed the church.
Colossians 2:18, "Let no man beguile you of your reward in a voluntary humility and worshipping of angels, intruding into those things which he hath not seen, vainly puffed up by his fleshly mind."
The worship of angels takes place when severing the function of angels from the Godhead, meaning, not joining the function of angels to the covenant of Jesus Christ. Claims to having "seen" angels are made by those who are outside of covenant. Those who say, "Oh… I saw an angel!" Most of the time these are induced phenomena or envisionation meant to add God's stamp of approval upon revival attempts to encourage others to run with a message.
Paul called these vain talkers, trying to speak something of spiritual value while saying nothing for truth, covenant, and the ways of Christ.
At other times these are apparition, Satan appearing as an angel of light. Again, if you are a believer and do not know the terms of the covenant God sanctified for your contact with Him, you are at a disadvantage, not able to discern which kingdom is manifesting.
Are There Female Angels?
Yes there are male and female angels. I'm going to quote from 3 Hermas Similitude 9:99-100. An inspired epistle from Apostle Hermas to the church. The Spirit of God instructs here on the function of angels in regards to your charity: "But I was ashamed to remain with them. And she who seemed to be the first among them began to kiss me. [And the others seeing her kissing me, began also to kiss me], and to lead me round the tower, and to play with me.]"
As in the book of Songs of Solomon, God uses the female gender to speak of Christ's love for the church and to describe charity. The kiss of charity is the exchange of knowledge between the saints that comes from the altar of Christ. Think back upon the coal of the altar that sanctified the lips of Isaiah to speak the word of God.
As believers we love God by building the altar of Christ within the heart with the stones of His knowledge and the Holy Spirit bonds and builds with us, using these stones of Christ to sanctify our lips to speak and testify of Christ to one another and to the world.
This is the priesthood of each believer. This is priesthood prophesy spoken of by Moses when he, speaking by the Spirit of the Lord, proclaimed that all God's people would be prophets. (Numbers 11:29)
Here we are not speaking of the calling into the office of the prophet, but rather priesthood prophecy of each believer. One cannot function in the office of the prophet without first learning how to function at the altar of Christ with priesthood prophecy.
Here is another cornerstone of discernment, isn't it? We hear of many claiming to prophesy in the name of God and claim Jesus is their Lord and Savior, but they haven't built the altar of Christ in their hearts and they don't function in priesthood prophecy.
So, they're trying to fill the shoes of an old testament prophet. They're trying to bring to life the pages of the Bible by stepping into them, trying to prove to the world that God exists. They'll prophesy about everything under the sun: the next U.S. president, the winner of the football or basketball game, the weather, the blood moon, pine trees, etc. With great swelling words false prophets prophesy great things from God: miracles, multitudes, and money. They prophesy about what they feel the direction God will next move: more prayer, opening up the office of the apostle, better prophesy, unity, more faith, more love, etc.
I want you to take a note each time you hear or read one of these so called prophecies and ask yourself, Does this minister or columnist function in priesthood prophecy? The answer will be NO. To function in priesthood prophesy a believer must first build the altar of Christ in their heart.
As a believer, we are called into a spiritual priesthood to offer to God spiritual sacrifices of knowledge as instructed by the Holy Spirit speaking through Apostle Peter.
"Ye also, as lively stones, are built up a spiritual house, an holy priesthood, to offer up spiritual sacrifices, acceptable to God by Jesus Christ." (1 Peter 2:5)
"But ye are a chosen generation, a royal priesthood, an holy nation, a peculiar people; that ye should shew forth the praises of him who hath called you out of darkness into his marvellous light." (1 Peter 2:9)
Believers caught up in the Charismatic movement wanted God to restore everything in Christ that the church lost due to the traditions of man becoming more popular than Christ. They wanted to prophesy! They wanted to be used of God!
It's true… you can all prophesy one by one just like the early church. But believers did not jump into prophecy. They were first instructed in the foundation of truth and they were obedient to God to first allow the altar of Christ to be built in their heart. Will you obey the voice of the Lord and begin to build with Him?
We're provided an easy to use game that works well from any laptop to help you get started. Simply
CLICK HERE
to visit our page and click the image "Build the Altar of Christ".
You don't have to struggle in your faith any longer. The transition is here and God's apostles are fully functioning. We are here to assist you to grow in the grace and love of God.
_____________________
[Eric vonAnderseck serves the Body of Christ as a confirmed Apostle in the government of God. He is the founder of Second 8th Week Ministries & founder of the Network of Apostles Today. He is the IDCCST® Christian Education Curriculum author and author of over 100 ground breaking books and articles, spearingheading the return of the apostolic calling and anointing to the church.
Apostle Eric ministers extensively nationally and internationally. He is the pioneer of the new apostolic age and recognized as the leading authority in the fields of church growth, foundation building, spiritual gifts and spiritual warfare, and the leading voice in the transition of the church into the new apostolic season and reformation.]
Last Revised: 2016-06-19