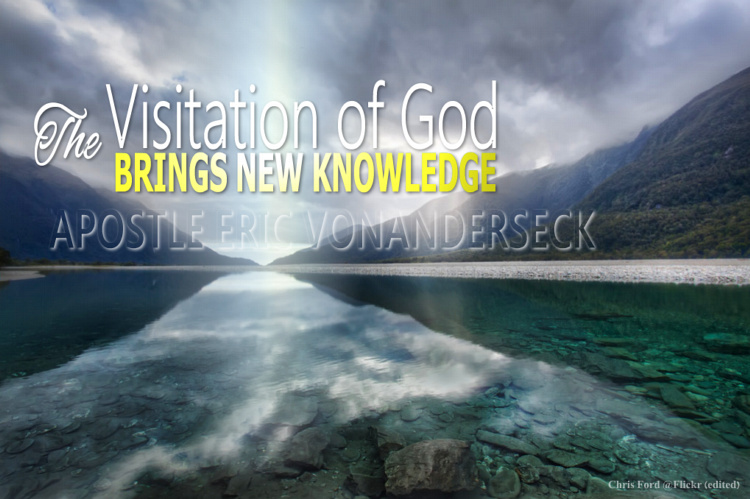 The Visitation of God Brings New Knowledge
By Apostle Eric vonAnderseck
As the restored church emerged this past decade, believers understood more clearly the wisdom of God to call them out of the false religious system. At the same time, many independent ministers still don't want to abandon ship. You might hear them saying something like, "Sure the church is flawed, but we should not abandon the church."
We are in a new season and visitation of God. God has visited His church to restore apostles to restore His knowledge. We are in a season of new knowledge. Knowledge of the covenant that the church had abandoned that God has now restored.
[Listen to the audio teaching by Apostle Eric vonAnderseck "The Visitation of God Brings New Knowledge".
CLICK HERE
]
As believers are being washed and cleansed during this time of transition they're realizing anew that the church is Jesus Christ and that He is not flawed. The current Christian culture is claiming Christ is flawed because their experience of faith does not reflect Him.
In essence they're saying, "You should not leave us here with this mess. We still want to claim to be of Christ while still doing our own thing. You need us. Please don't go."
As believers accepted the knowledge of the covenant of Jesus Christ they have grown in their experience of grace and truth and it's become more difficult for independent ministers and denominational ministries to keep you in the dark. They used to claim a symbiotic relationship existed saying, "You need us and we need you."
To the surprise of many ministers, God has broken those unholy bonds to let His people go. This is the season of your deliverance from those who work iniquity and call it the righteousness of God.
Signs the Idol is Crumbling
There are signs that the idol false ministers embrace and call their Jesus is crumbling. Not wanting to be seen out of the loop in this season of correction, many ministers admit that God is cleaning up His church. Presenting their own lists of doctrines the church should never tolerate, they hope you will believe they are God's voice or that God had assigned them to assist in the transition.
However, these are the very doctrines that these ministers supported in a religious system that supported them. So in rebuking you, they are rebuking themselves.
God continues to speak "Woe, woe, woe" unto them because their repentance is feigned. God is saying that their stewardship is flawed and they're responding, "We're not flawed! This doctrine (that I helped to introduce to the church and promoted) is flawed and if we get rid of this embarrassing and incriminating evidence (pointing to the defiled knowledge in their camp that God's steward had identified for cleansing) then the people will continue to accept us as the mind and voice of God."
Washing one's own hands in innocence while continuing to work iniquity is not true repentance. True repentance is not seen in creating lists of doctrines you want to distance yourself from because they're no longer fashionable and therefore no longer marketable.
So God put a sign there for you to discern false ministers. They have much to repent from, but nothing to repent to. I'll repeat that because it is so important for you to understand: False ministers have much to repent from, but nothing to repent to.
True repentance is not simply dumping doctrine you're now forced to reevaluate as God sheds light on your error. True repentance is seen in the embracing of the knowledge God is calling you to embrace, the embracing of the steward God is calling you to embrace, the embracing of the priesthood God is calling you to embrace. Half measures and self diagnosis reveals hypocrisy, not faith.
The Sorrow of the World
God identifies false repentance as the sorrow of the world that works death. A minister feels put in a bad spot and feels badly about being in this situation and works with another spirit (unclean spirits) to release his conscience from guilt, but is only reflecting death in the conscience. This is false repentance.
2 Corinthians 7:10, "For godly sorrow worketh repentance to salvation not to be repented of: but the sorrow of the world worketh death."
False repentance is not godly sorrow. Godly sorrow identifies Christ in His covenant to embrace Him fully. A believer not only forsakes false doctrine, but also embraces Christ in His covenant.
If a believer embraces Christ in His covenant he then has access to His grace, but if he doesn't embrace the grace, he's not embracing Christ. God's call: Embrace the grace!
An Invitation to all Ministers Seeking to Transition
Do you have a place in the newly formed government of God? Of course you do, according to the grace of your calling, not your job title as a communist, magazine editor, blogger, etc.
Where do you start? You have to start at the bottom where we all started—with the foundation of truth God restored to the church. A few do's and don'ts. Don't claim you already knew the restored truth, when you didn't. Don't try to reverse engineer the knowledge of Christ to try to understand it. Don't mix the truth with your current frame of knowledge. Don't do this on your own without oversight. I would welcome your contact me privately by messaging me via Facebook.
CLICK HERE
to play the game "Build the Altar of Christ" to begin laying the foundation of truth in your heart. Learn how to build with the stones of Christ's knowledge. [game plays on laptop or desktop computer only]
I encourage you to listen to the audio teaching I gave May 6, 2016 to prepare your heart in true repentance.
CLICK HERE
_____________________
[Eric vonAnderseck serves the Body of Christ as a confirmed Apostle in the government of God. He is the founder of Second 8th Week Ministries & founder of the Network of Apostles Today. He is the IDCCST® Christian Education Curriculum author and author of over 100 ground breaking books and articles, spearingheading the return of the apostolic calling and anointing to the church.
Apostle Eric ministers extensively nationally and internationally. He is the pioneer of the new apostolic age and recognized as the leading authority in the fields of church growth, foundation building, spiritual gifts and spiritual warfare, and the leading voice in the transition of the church into the new apostolic season and reformation.]
Image credit: Chris Ford @Flickr (edited)
Last Revised: 2016-06-19