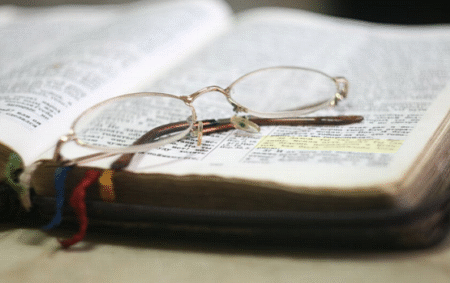 Why Some Place Labels On Grace
Apostle Eric vonAnderseck
In this new season of apostolic challenge and apostolic change, ministers are trying to stretch themselves into the apostolic shoes to define for us the grace of God.
Some, of course, resort to the usual word study to wrestle meaning into the word "grace" and others try to re-imagine their current misuse of the word "grace".
Whenever that happens you'll notice that rather than define the function of grace from God's mind, they simply put another label on it.
Most recently a minister talked about grace being "special", but yet once more neglected to fit grace to Jesus Christ, His covenant, the 9 spiritual tools of the new covenant, and priesthood. So again, grace stands alone. Nothing has changed.
[Listen to the message "The Blessing of Grace Multiplied". We'll study from the book of Luke, Proverbs, and Colossians to establish the testimony of the Lord in His grace.
CLICK HERE
]
It's like lining up a number of beautiful women and calling each one special because something in each woman dazzles the eye. I'm left wondering though, which one is his wife, the one to which he has joined himself, the one he's building with, and takes home with him. The same thing takes place when calling grace "special", but failing to join Christ to this element of the gospel. Everything that dazzles the eye of the religious aspiration is called the grace of God.
2 Timothy 1:9, "Who hath saved us, and called us with an holy calling, not according to our works, but according to his own purpose and grace, which was given us in Christ Jesus before the world began."
Know this: The idols of the heart replace the grace of God and spiritual fornication is the result. The gaps in sound Christian doctrine carries over into spiritual warfare. Instead of a quiver full of arrows, you've got a quiver full of twigs. When teachings about grace do not come from apostolic stewardship believers are left with powerless discernment.
Build With Grace According To The Blueprint
In my new release "
The Apostolic Calling & Anointing
" the Spirit brings much clarity from the mind of God as to what grace means, how to access it, and how to build with it. Grace is part of your blueprint of life in Christ. The 9 spiritual tools of Jesus' covenant have many benefits to your faith as they play a key role in regulating the grace of God for your growth in Him. Grace must be in steady and constant supply for you to benefit from the operation of God in grace.
A quote from chapter two: "To build something you not only need a blueprint, but the right precision tools for the job. As they say, a carpenter is only as good as his tools, and we have the best tools. The 9 tools of the covenant are divinely crafted. Each tool bears the face of Jesus. They are the spiritual things of Jesus' name. An entitlement is inscribed within these powers, whereas we become heirs of God and joins heirs with Jesus Christ.
"These spiritual tools are IN Christ. The word "in" denotes a point of access for exchange—an equal exchange. Not the exchange described when Jesus is thought to be our substitute, whereas it is believed that He took our sins and we took His righteousness.
"That is not an equal exchange. The equal exchange is that which takes place when we believe that Jesus to be our propitiation. All His gifts grant us access to Him to exchange grace for faith, faith for charity, truth for regeneration.
"When you read the epistles take note of the number of times the apostles brought our attention to being "in" Christ, or "in" Him. (Rom 3:24; 1 Cor 1:2; Phil 2:1;Eph 1:4,9,10)
"Jesus, in His propitiation, provides for us. All the tokens of Christ mirror His divine essence—who He is. You need access to Christ (to His knowledge, tools, and priesthood) to live according to Christ. We are to take on the divine nature by receiving His tokens. His gifts expand the soul to the overflowing of His goodness because He gives again and again and again."
As God chastises and corrects He's making a path for faith to stand only in Jesus Christ. He's making necessary distinctions, giving faith proper direction. This is why stewardship, true apostolic stewardship, is a refuge for the saints.
______________________________
[Eric vonAnderseck serves the Body of Christ as a confirmed Apostle in the government of God. He is the founder of Second 8th Week Ministries & founder of the Network of Apostles Today. He is the IDCCST® Christian Education Curriculum author and author of over 100 ground breaking books and articles, spearingheading the return of the apostolic calling and anointing to the church.

Apostle Eric ministers extensively nationally and internationally. He is the pioneer of the new apostolic age and recognized as the leading authority in the fields of church growth, foundation building, spiritual gifts and spiritual warfare, and the leading voice in the transition of the church into the new apostolic season and reformation.]
Last Revised: 2017-04-06