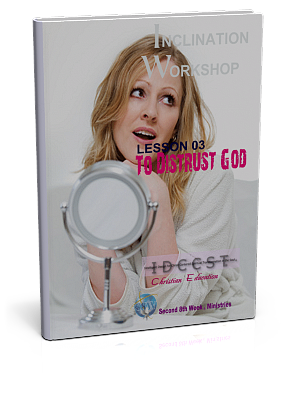 Many say that the greatest spiritual secret is to trust God, but they don't give the key of knowledge that opens your understanding, so trusting God remains a secret.
Some talk about a "radical" trust in God, referring to the difficult act of recognizing God's sovereignty over every area of our lives. But look at what trust is addressing, God's sovereignty over our lives. This tells me that the Enemy is directing the attention of faith to the events of life where God's hand of blessing is sought.
True trust recognizes first God's sovereignty over our faith. If you want to really "put God first" you have to remove "trust" from the issues of your life and refocus trust first on the issues of faith.
A faith that is sustained by Jesus Christ, where you learn to experience the life of Christ within. A faith that is powerful where you learn to trust the power of His sanctification, the power of His justification, the power of His righteousness.
You begin to trust God's washing and cleansing because you daily experience the truth separating you from the philosophy of this world. You begin to trust that when you use the spiritual tools of the Second Covenant that Jesus is mediating for you. You experience this in many profound ways as God gives substance to your hope.
Our hope of Christ is focused on this work of Christ in the soul because that is where God focuses our hope in Him. Having said all that, God knows that man is inclined to distrust Him and that is what the 3rd Inclination Workshop is all about.
Learn why God likens the inclination to distrust God as a marriage to self! When a marriage relationship is considered, there are many corresponding realities that help us relate to the inclination to distrust God that will describe a strategy of Satan, which the Lord lays bare for our discernment.
We know that when we come into covenant with God that a severing takes place. God removes us from the kingdom of darkness and we are joined to God by the Spirit, and a covenant relationship begins with Him (1 Corinthians 6:17).
But the inclination of man is to go back to love of self and distrust of God. This makes man indifferent to God. When indifferent to God a person becomes numb to grace and the things of this world seem real and the things of God seem distant and unreal. You see, Satan has good reason to nurture this mindset of self love.
In this Inclination Workshop you'll receive Bible verses on trusting god's plan. You'll
learn why the natural man works trust by precognition of the flesh. Learn why the natural man uses your emotions as a witness to the past to confirm your suspicions and why this leans to trusting your own judgment and thinking patterns.
God wants to defeat long standing traditions of the flesh and this is the purpose of your growth cycles (revelation, resistance, and reward).
Learn the 5 familiar self serving thought patterns of the God will challenge for healing…..
Instant gratification…….….….Here we see a lack of trust in God.
Intolerant of others…….……. Here we see a lack of trust in God.
Life serves me………………. Here we see a lack of trust in God.
Everyone should love me……. Here we see a lack of trust in God.
I want the best for myself……. Here we see a lack of trust in God.
How well you respond to these challenges all depend on how well you are prepared to stand in the grace of God. Do you have your core reflections turned on? I hope so, because God has an exciting plan for you to experience victory in Christ.
In this Inclination Workshop we'll walk you through the 5 steps to overcoming yourself, the world, and the devil. You'll learn how the spiritual man gains trust in God every day by experience with the grace and truth of God.
Last Revised: 2012-10-22