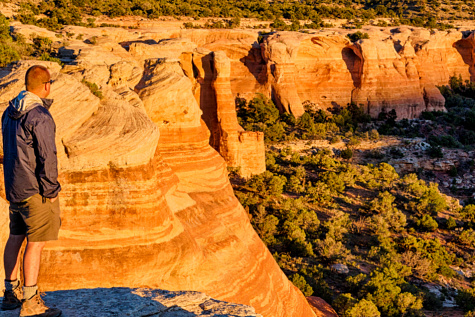 "And I sought for a man among them, that should make up the hedge, and stand in the gap before me for the land, that I should not destroy it: but I found none." -Ezekiel 22:30
The Watchman Series is a series of prophetic words and teachings given to Apostle Eric vonAnderseck. God always selects a steward through whom He speaks to His people words of warning and words of hope. True prophets confirm the covenant. Don't miss a single recording in this series.
Watchman Series -04: Who Will Stand in the Breech
Who shall stand in the breach today ? The church without true apostolic leadership continues to try to link the imagination and aspiration to faith. They're holding out for "miracle marshals" and hoping for a new "prophetic generation" to wipe the slate clean.
You will hear things like, I see mantles of might falling from heaven; or, God will show you a deeper wisdom; or God will give you new keys. But these words come from empty vessels. These are wells without water, as Peter prophesied (2 Peter 2:17).
The stewardship stands in the breach and Jesus Christ is the chief steward of our salvation and He stood within the breach. This means that He has elected to restore to the church all that she lost during the week of darkness.
The church is brought back to the promise of the eternal inheritance as heirs of God and joint heirs of Christ.

The 7 shells of the atom and reflect the 7 heavens.
God can put the universe within the chamber of your own heart.
Do you feel like a whale inside a goldfish bowl? Apostle Eric teaches about how God designed the soul and the brain; predestination; the gate to the Father's throne, and more.
RESOURCES
Learn about the covenant knowledge, tools, and priesthood that God has restored to the church.
Free Online Courses
are made available by Apostle Eric.
Image credits: BLM @Flickr
The church sorely needs a trusted voice of prophecy as God directs the church out of the false prophetic movement, out of the doctrinal errors of the current Christian culture and into the fulness of Christ that is now being restored to the church. Eric vonAnderseck is a respected apostolic and prophetic voice and is recognized around the world. God has spoken through him for over 30 years.
As the Lord has revealed and Apostle Eric has spoken, the apostles' office has been restored to the church, the true record and pattern of Christ has been restored to the church, the priesthood has been restored and government of God has been restored to the church. The voices of many believers are now rising up in victory over the antichrist spirit that at one time ruled the Body of Christ.
Last Revised: 2015-04-01