The Christian Faith is Defined by Covenant
Getting a Fresh Start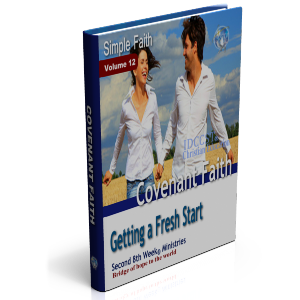 Lesson 12 of 13
Common words you read in the Bible now hold new meaning: "covenant", "blood", "pattern", "knowledge", "truth", "design", "tools", "record", "witness", "First Covenant", "Second Covenant", "Old Testament", "New Testament". These are words God uses to describe the reality of Jesus Christ and His plan by which you may experience Him. God wants to reshape your thinking about your faith.
Perhaps you were used to thinking about Moses when you thought about faith, or perhaps you were used to thinking about tithing or communion. The reason for spiritual bankruptcy is that faith was misplaced. It requries a mind shift to walk in this New Covenant of grace. We need only have the same confidence in God's plan as He does. God is so confident that His plan works that He did not make up any other plan for the church to experience the work of His Son in the heart. His plan works! His plan is that your faith be joined to Him through the simple terms of the Second Covenant. These are the terms Jesus shed His blood for.
Scriptures: (Galatians 4:23-24), (2 Timothy 2:15), (Exodus 25:8-9), (Exodus 40:33-35), (1 Chronicles 28:11-12,18-19), (2 Chronicles 5:1,13-14), (1 John 5:6,11), (Hebrews 6:5), (2 John 9), (Deuteronomy 12:8), (Hebrews 9:22), (Hebrews 9:18-21), (Matthew 26:28), (James 2:11), (Galatians 2:18), (John 1:16-17), (Romans 3:26), (Genesis 3:24), (Romans 3:23), (Deuteronomy 29:1,9,12), (Hebrews 8:7-8), (Hebrews 10:9,19-20), (Luke 22:19), (Hebrews 8:6), (Matthew 11:28-30), (1 Corinthians 3:10), (Acts 15:10), (Colossians 2:21-23), (Hebrews 10:3), (Hebrews 3:1-5), (1 Thessalonians 2:13), (Philippians 2:12), (Titus 1:16), (Hebrews 6:13), (Amos 3:3), (Hebrews 9:18-20), (1 Peter 1:2).
1.
What happens when a person transgresses the covenant of God? "When ye have transgressed the covenant of the Lord your God, which he commanded you, and have gone and served other gods, and bowed yourselves to them; then shall the anger of the Lord be kindled against you, and ye shall perish quickly from off the good land which he hath given unto you." (Joshua 23:16)
2.
Man may forget his vow to God, but God never forgets His covenant: "Wherefore the Lord said unto Solomon, Forasmuch as this is done of thee, and thou hast not kept my covenant and my statutes, which I have commanded thee, I will surely rend the kingdom from thee, and will give it to thy servant." (1 Kings 11:11).
3.
The mercy of God towards you is in the covenant: "All the paths of the Lord are mercy and truth unto such as keep his covenant and his testimonies." (Psalm 25:10).
Making Simple Connections
1.
Proper understanding of the Second Covenant allows you to live the life of Jesus Christ. By making simple connections between the blood of Jesus Christ and the spiritual tools that God wants you to use for the labor of your faith a salvaging process is taking place. You are able to grow, able to know God, and experience His promise of life.
2.
Proper understanding of the Second Covenant allows you to make simple connections between your responsibility of faith and trusting God. Your experience of faith, being empowered by the Spirit (witness), leads you to continue to make the same application in expectation of God's communion with you.
3.
By comparing the First Covenant to the Second Covenant you are no longer tempted to mix Moses with Jesus, and you are assisted to stand to the testimony of Jesus Christ. You can then observe God's commitment to engage your faith on the grounds of this New Covenant and rest in His validation of your faith.