Suffering for God and Christian Response to Suffering
Suffering for God -Part 1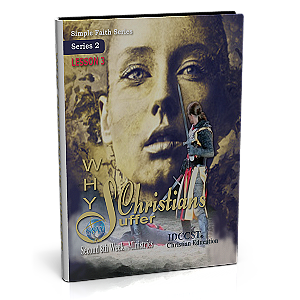 Lesson 3 of 7
When talking about suffering for God and Christian response to suffering, the true tradition of faith is Jesus Christ and follows the rhythm of the Spirit, which is: "Revelation, Resistance, and Reward." Jesus established this tradition for us when He was led of the Spirit into the wilderness to be tempted of the devil (Matthew 4:1-11). It's right there for us to see in the scriptures and brought out for us by the apostles in their epistles, how Jesus established the pattern for our faith by His example.
I want you to get familiar with the words "affliction" and "tribulation" in regard to your spiritual growth cycle. We are appointed thereunto. A token of conflict will always accompany you because God has assigned this time for the testing of your faith and the reward of your choices.
Nobody likes it. The sinners don't like it. That's why they try to escape through their psychologies and false knowledge. And the church, we don't take pleasure in it, yet we know it has been assigned to us. God puts us within this frame of thinking so that we not only reverence and fear him, but continue to see the outcome of His love and mercy towards us. You will see the outcome of your cycles through your patience and faith.
Paul knew the true tradition of faith in Jesus Christ. He wrote by the Spirit, "And not only so, but we glory in tribulations also: knowing that tribulation worketh patience" (Romans 5:3). Not the tribulation of God's wrath, but the tribulation of regeneration. The cycles of your growth, the pruning of the tree.
The Things You Nurtured in Satan's Kingdom Have to be Removed
The things you nurtured in Satan's kingdom have to be removed. So God removes you from Satan's kingdom and then God removes Satan's kingdom out of you through the work of regeneration. Those things that Satan sowed in you, the prejudices and perceptions of the mind, these things had a profound influence upon your perception of life. You began to weigh reality by lies.
If you weigh realities by lies you are only going to find inequity. But if you weigh reality on the scale of truth then you can really behold the face of the Lord and say, Yes, we can endure this. Reality is on God's scale, not Satan's scale. Satan's scale always lies because he has his finger on the other end. Satan continues to affirm with the imagination where God affirms through Christ. And God affirms us through the dreams, the visitations, the revelations, and gifts of power He so generously bestows upon us. God continually assists us through these afflictions.
We don't enjoy the affliction, but we do want the prize. There is an expectation with our suffering. We labor for the Lord, looking forward to that wage. The challenges that face us every day are numerous. This speaks of the endurance God calls us to. We endure our cycles of growth for the prize of knowing God, bearing the fruit of Christ in the inner man, increasing the house of God, and gaining eternal treasures in heaven.
Remember, fruit bearing is your #1 goal. Even as Apostle Paul wrote, "Now no chastening for the present seemeth to be joyous, but grievous: nevertheless afterward it yieldeth the peaceable fruit of righteousness unto them which are exercised thereby." (Hebrews 12:11)
The prophetic path has been set before you. Jesus walked upon the prophetic path to set a record in Himself. "You see what I have done?" Jesus would ask. "I went into the wilderness and endured contradiction. Do you love me? If you want My wages as a King of kings, if you want to enter into My throne and rule as kings, you have to follow that same path."
My friend, God will lead you into the wilderness of your cycles and you'll be beset. Satan will always have his little booth set up so that when you come by and you are thirsty, Satan says, "Come here and I'll give you something to drink." He is not going to give you what you need, but he is going to give you something that is going to make you think your thirst has been quenched. All the Deceiver has is a lot of muddy water. . .sulfur water. . .bitter water. He does not have the sweet water of God's grace.
Jesus is the Pattern of Our Faith
So, let's take a minute to learn why it is important to observe Jesus Christ as the pattern of our faith. By observing Jesus Christ as the pattern of our faith we are learning "pattern recognition". Jesus Christ is the pattern of our faith and He set our feet upon the path of covenant faith for us to follow Him. By this education to Christ believers learn how to discern truth from error; i.e. to discern the separation that God places between the record of the flesh and the record of Christ, between the rhythm of the flesh and the rhythm of the Spirit, and between the kingdom of darkness and the kingdom of Christ's righteousness.
When we talk about the "pattern" of faith through our Lord Jesus Christ we are talking about God's intelligent design for Christ-centered spiritual transformation® (IDCCST® ). The Deceiver does not want you to have this knowledge or life in Christ so he draws you away from God to another pattern of knowledge. The Deceiver is expert at counterfeiting Jesus Christ and that is why God calls him the spirit of Antichrist. The counterfeit works in many ways to disarm faith.
The spirit of Antichrist will either put your faith to sleep by reducing Jesus' truth to poetic rhetoric to make you feel good or he will try to bring you to a place of perceived power by igniting the pistons of the God-Code imprinted on your soul to make you feel as if your faith is hooked up to the power of God.
The Counterfeit Pattern
I want to talk to you some more about the counterfeit pattern. The Deceiver knows that God intends that you follow Jesus, so to keep you from that, the spirit of Antichrist developed many poetic devices to set before your mind images of following Jesus that play upon your emotions, but have no substance. The ever popular Footprints in the Sand illustrates this poetic counterfeit.
The mind is called upon to imagine that Jesus is carrying you and caring for you, and your emotions are called upon to agree to this desire. But the Deceiver knows that God is a God of knowledge and that He calls upon faith to follow Jesus by this knowledge and that the heart is led astray by the poetic device and faith is made void. Faith is put to sleep by the counterfeit.
The apostles always guarded the church from the counterfeit and worked to ensure that believers were being consistent with the knowledge of Christ as they were taught. Even as Paul wrote, "For this cause, when I could no longer forbear, I sent to know your faith, lest by some means the Tempter have tempted you, and our labour be in vain." (1 Thessalonians 3:5)
Faith is so simple, but Satan complicates everything. He complicates it. This means that he exploits a feeling or exploits a passion and now he wants to take that feeling into a direction of envy or conflict.
The Tempter, when he exploits a feeling or passion has neutralized you and you are not effective any longer. That's what Satan wants. Satan wants to neutralize you, to immobilize you so that you are no longer contributing to the house of God. You are exactly where he wants you because as long as you are not laboring there is no wage. When faith is not laboring, there is no charity. When faith is not laboring, you begin to rot. You start to spiritually rot. And then you wonder, Where's all this charity at? Where's God's power? Well, it's not there because you're not contributing.
When you come into covenant with God the exploitation stops. When the foundation of truth is set in your heart by living apostles you learn to discern the powers of each kingdom and understand how the powers work with knowledge to transfer a virtue (of either light or darkness) to the soul.
By this education to Christ, God defines sin to ruin its power; He removes faith from the shadows of Satan's kingdom, and re-orients faith to Jesus Christ. As a result of this re-education, believers are then able to keep this commandment: "Neither give place to the devil." (Ephesians 4:27)
You now understand why we advised at the beginning of this lesson to set aside the aspects of suffering in regard to persecution. You will miss all this that God is addressing for faith to discern and work with. Often times the hardships of life on account of persecution overshadow faith and becomes the testimony in place of Christ. Strangely, many have been known to go to foreign soil where Christians are persecuted just to learn what "real" suffering is all about. They try to put themselves into a situation where they can gain this testimony. Parallels are made to the book of Acts, citing the stoning of Paul, or to Jeremiah who was put into the dungeon. Raise your hand if you can hear the testimony of the flesh in that one. It just screams out at you, doesn't it?
This is the counterfeit suffering. I am not saying that Christian persecution is fake or that it is not happening, or that those suffering do not love God. I am saying that the Deceiver uses it for his own purposes and many miss the true tradition of suffering God placed in Jesus Christ. Don't let that happen to you, dear friend.
Identify the spiritual curve: Let's take this to our diagram we studied in the previous lesson and identify which spiritual curve is manifesting in this counterfeit suffering. Curve #3 is identified, where false faith follows the events of the Bible, trying to live out Christ by the event.
Identify the tool: Now let's identify the tools being used in the counterfeit. This is a helpful way for you to begin to learn how to discern when the spirit of Antichrist is masking as Jesus Christ. We can identify the tools of fantasy and flattery. The mind pulls from certain images of suffering a testimony that is seen to make up for the lack one sees in one's faith, while at the same time draw from others a validation that true Christianity is being expressed.
Again, this teaching should not be used to diminish the physical suffering Christians endure when they are persecuted for their faith. God is using this distinction to lift the rock under which Satan was hiding yet another scheme to diminish the true pattern of faith in Jesus Christ.
Revelation – Resistance – and Reward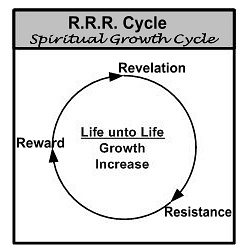 Let's get started! We want to break this open for you to learn exactly how we are to follow the pattern God set in Jesus Christ for the testing of our faith, our overcoming, and our reward, which is the pattern of our spiritual growth cycle: Revelation, Resistance, and Reward.
Let's look at the account of Jesus' testing in the wilderness in the gospel of Mark, and observe how God intended our faith to follow the same pattern. We will focus on how Jesus received revelation, then faced resistance from Satan, how He overcame Satan by making a choice of faith to serve God, and finally, how God rewarded Jesus with the ministry of angels. Mark 1:10-13
10 And straightway coming up out of the water, he saw the heavens opened, and the Spirit like a dove descending upon him:
11 And there came a voice from heaven, saying, Thou art my beloved Son, in whom I am well pleased. [here we observe "REVELATION."]
12 And immediately the Spirit driveth him into the wilderness.
13 And he was there in the wilderness forty days, tempted of Satan; [here we observe RESISTANCE (how Satan resisted Jesus)] and was with the wild beasts; and the angels ministered unto him.[here we observe the REWARD (how God rewarded Jesus for His choice of faith).]
How did Satan resist Jesus and how did Jesus overcome that challenge? Let's look at the same account in the gospel of Mathew and fill in a few details. This time our focus is going to be on the CHOICE Jesus makes at the time the resistance is taking place:
Matthew 4:1-11
1
Then was Jesus
led up of the Spirit
into the wilderness to be
tempted of the devil
.
2
And when he had fasted forty days and forty nights, he was afterward an hungred.
3
And when the tempter came to him, he said, If thou be the Son of God, command that these stones be made bread
[The challenge: Use your power to satisfy your appetite with carnal things]
4
But he answered and said, It is written, Man shall not live by bread alone, but by every word that proceedeth out of the mouth of God.
[Here we see Jesus' CHOICE of FAITH: Jesus REFLECTS upon the plan of God and chooses to live by His Word.]
5
Then the devil taketh him up into the holy city, and setteth him on a pinnacle of the temple,
6
And saith unto him, If thou be the Son of God, cast thyself down: for it is written, He shall give his angels charge concerning thee: and in their hands they shall bear thee up, lest at any time thou dash thy foot against a stone
[The challenge: To project into scripture with His imagination to prove God]
7
Jesus said unto him, It is written again, Thou shalt not tempt the Lord thy God.
[We again observe Jesus' CHOICE of FAITH: Jesus REFLECTS upon the plan of God and chooses to remain joined to God.]
8
Again, the devil taketh him up into an exceeding high mountain, and sheweth him all the kingdoms of the world, and the glory of them;
9
And saith unto him, All these things will I give thee, if thou wilt fall down and worship me.
[The challenge: To gain increase by the tools of Satan's kingdom]
10
Then saith Jesus unto him, Get thee hence, Satan: for it is written, Thou shalt worship the Lord thy God, and him only shalt thou serve.
[In this third example we again observe Jesus' CHOICE of FAITH: Jesus REFLECTS upon the plan of God and chooses to serve God according to His plan.]
11
Then the devil leaveth him, and, behold,
angels came and ministered unto him
.
[Jesus experiences the reward of His faith]
We can now also understand what it means to suffer with Jesus as the scriptures declare, "And if children, then heirs; heirs of God, and joint-heirs with Christ; if so be that we suffer with him, that we may be also glorified together." (Romans 8:17)
And again, "If we suffer, we shall also reign with him: if we deny him, he also will deny us." (2 Timothy 2:12). Jesus set the pattern of our suffering in Himself. To suffer with Him means to follow in His footsteps through revelation, resistance, and reward.
And also, "Though he were a Son, yet learned he obedience by the things which he suffered." Hebrews 5:8.
Revelation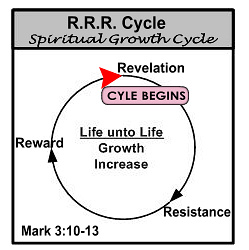 We clearly see the pattern God set for our faith in Jesus. He is our trail blazer. Just as the trial of Jesus' faith began with revelation, so does your spiritual growth cycle begin with "revelation." What is revelation? God declared with a physical voice that could be heard by all, "This is My beloved Son in whom I am well pleased," thus showing us that His voice reveals Jesus Christ. The still small voice of grace (which is louder than a trumpet) now speaks in the language of the covenant that we might share in God's mind, understand His plan of redemption, and stand in His perspective. All revelation is a declaration of Jesus Christ and God's plan through Him.
Revelation and grace are two words that go hand in hand. When you are talking about grace you're talking about revelation and when you're talking about revelation, you're talking about the grace of God. They are the same thing and must necessarily be linked in your mind. The moment they are separated, revelation becomes something the flesh works for.
God's plan is to daily reveal Christ to you. Without truth we would not have the knowledge of this pattern. God set the world in the heart, so God needs to reveal Christ to us to set our heart upon Him. We come to an understanding of God by grace.
From your studies of the element grace you now understand what Jesus meant when He said that He would manifest Himself to those who love Him (John 14:21). Jesus Christ is the revelation of God to you. Jesus manifests Himself to you to minister grace for your growth so you may know Him and commune with Him, and that He may heal your soul and form His fruit within you. This divine transformation by the divine power is God's will for you every day (2 Peter 1:3-4) When we say that revelation is Jesus manifesting Himself to us we not only speaking about gaining His perspective, we are also are talking about the way in which grace impacts the soul. There are the 9 operations of God in grace. . .
1. Grace………draws faith from the heart,
2. Grace………..gives us a heart to perceive Christ,
3. Grace……….strengthens the will for faith,
4. Grace ……….creates equity between mind and emotions,
5. Grace………..creates creates single mindedness
6. Grace………...creates sober mindedness,
7. Grace…………nourishes the soul,
8. Grace……….. enlarges the heart
9. Grace………...keeps the heart rooted in Christ
As you can see, the grace of God is an extraordinary power! In addition, grace works with peace to comfort the soul, to buffer the soul in times of suffering. What we are speaking of here is the reward of choosing faith as well as the revelation. God's rewards provide many edifying reflections to carry you into the next growth cycle.
I want to also add here that while many talk about hearing God's voice, many times, the voice they hear is the voice of the moral code, not the voice of grace. The operation of God in grace, as itemized above, is absent in their experience and confession. There is a problem when people claim the voice, but not the power.
Look at the operation of God's grace again. See what it does for you every day? Just think of it! You can taste of the powers of the world to come every day. God is just waiting for you to exercise your faith so He can also reward your faith with these spiritual blessings in Christ Jesus.
Notice what I'm not doing. I'm not retooling grace (revelation) to speak into your life. I am not directing faith to reverse the adverse circumstances you face. I'm not retooling grace to speak to you about the fears you may about failing to fulfill God's design for your signature.
Notice the change in language! The flesh speaks to you about the flesh. God speaks to you about Jesus Christ. The flesh redirects faith to address the issues of life because the flesh is seeking resolution and believes that the witness of the Spirit is in physical blessings. This is why Apostle Paul made this very important distinction for our learning and discernment by saying that God "blessed us with all SPIRITUAL blessings in heavenly places in Christ." (Ephesians 1:3)
When you are properly functioning in your priesthood you can easily identify God's voice of revelation to you every day, unfolding Christ to your understanding.
Clarification: Many people ask me to clarify to them how to receive the revelation of God. I do not mean that we are to meditate on scripture until it becomes a revelation. That is the wrong way. I am also not speaking about seeking a revelation for your life, your job, or whatever. I am speaking to you about Jesus Christ. I am not speaking to you about your life. Don't worry, or feel condemned if you get the two confused at first. It is easy to do that. God designed your daily growth cycles to teach you these distinctions so that you can walk with Him and receive all His spiritual blessings.
While we are on the subject, don't allow people to "prophesy into your life" or "prophesy to you about your life". That is how faith follows the rhythm of the flesh. That is the counterfeit prophecy. Again, if you have fallen into this trap, dear friend, don't be ashamed or allow the adversary to bring you into condemnation, just take the steps necessary to turn your faith around so it is not working with your life situations, signature skills, talents, earthly hopes and dreams, but ONLY with Jesus Christ.
Pray and ask God to help you function with His grace. The grace and truth of God is all you need to identify yourself with Christ. As you grow in the grace and knowledge of our Lord, He will heal both your mind and soul from the terrible bondages Satan inflicted upon you; And He will also oversee the affairs of your life as you bring these petitions before Him.
Yes I said that we are to petition God about our physical needs, your loved ones, the decisions that are facing you, and the places in our soul that are in need of His comfort, healing, and tender care. Do not see this as a contradiction. God hears and answers all your prayers as you serve Him through your cycle rotations. You cannot ignore your growth cycles, neglect the tools of the Second Covenant, fail to function in your priesthood and charge faith to work with the flesh to gain God's blessing in your life. That's not the way it works.
Prayers of Desperation or Prayers of Consecration
I want you to learn the difference between prayers of desperation and prayers of consecration. The prayers of desperation have to do with wanting God to manipulate circumstances into your favor. It's like using a somebody. Like being friends with somebody just to gain the favors they can do for you. Nobody likes to be used and God doesn't like it either.
God is seen addressing this same mindset in the book of the prophets concerning the unprofitable fast—the fast for strife. "You fast for strife" (Isaiah 58:4). And this is what Christians do in their prayers, they pray for strife. They are asking God to involve Himself on their behalf to manipulate someone's opinion or the issues of their own life so it can sit right with them.
So instead of being a prayer of consecration where you are committed to build the house of God, it is a prayer of strife. So that when the absence of God's involvement is seen, a person begins to fix the problem themselves, opinionating, and afflicting other people. Here is the thought that many times runs through the mind: If God's not going to do it, I'll have to do it myself. But, this is not being crucified with Christ.
Prayer is not an escape, it is a building block. We always taught that. Prayer, preaching, and prophecy (3 of the 9 tools of the covenant) are building blocks. So we pray one for another to build. We prophesy to build, we receive knowledge for the purpose of building. If you are building, you are a partaker of the consolation.
The Manifold Grace of God
Jesus will manifest Himself to you daily. Either through words of knowledge or understanding gained through study of the doctrine of Christ, or through prophecy; whether a dream or vision Jesus will speak to you to continue to direct your faith into the covenant, that you may know Him and commune with Him, and that He may heal your soul and form His fruit within you.
Jesus promised to do this and He is true to His word.
Apostle Peter talked about this revelation of God that is received as a gift. He called it the "manifold grace of God". He wrote saying that Christians should expect to receive it, live by it, and share it amongst themselves: "As every man hath received the gift (daily ministration of grace), even so minister the same one to another, as good stewards of the manifold grace of God." (1 Peter 4:10)
This daily ministration of grace to you is how God reveals Christ to nurture your faith. So you'll need to pay attention to these revelations and jot them down. Revelation is powerful for reflection! That's why you're keeping a record called a Reflection Book, so that when you're out to sea and things seem to be rather unfavorable, you can go back into your reflection book and say, "Wow, that's right. I remember when God spoke to me. His peace sustained me and I gained His perspective and I overcame. That happened!" You'll see it over and over again how God spoke to you and His peace sustained you and you gained His perspective and you overcame.
In each cycle of growth you're crucifying the aspiration, to rather live by the power of God. The anchor of the aspiration is being cut, which is tethered to the flesh, which is tethered to Satan's kingdom. As long as we're in the flesh we're going to be vulnerable. But God assigned it that way. That's why Jesus was led of the Spirit into the wilderness to be tempted of the devil. It was not God that was temping Himself, it was Satan that was tempting God.
God assigned Himself to this pattern for the purpose of the challenge for the reward. And through consistency is birthed a trust so that now you are truly trusting in the Lord. Which before, trust in God stood in as a romantic fantasy without the experience of grace. The end result of that will always be tragic.
For many, their concept of trust is with closed eyes: "Oh I'm just going to trust the Lord." God is not asking us to do that. God is not assigning trust to "closed eyes". That's false faith. God assigned trust to open eyes. That is true faith. I am not talking about walking by sight, but utilizing the true knowledge of God's grace, where we behold Him as God spoke through Isaiah saying, "Behold Me! Behold Me!" (Isaiah 65:1)
You'll want to record the revelation of God to monitor your progress with it. You can use the links below to visit our website to download your free Spiritual Workout Results Guide (SWRG) and to visit our Fan Page to post your results. You can compare that to the results of your friends to see how grace works with them. This is one way of being a good steward of the grace of God. As your friends read your results they will receive the benefits of grace listed above and the kingdom of God will increase by your labor with grace. You'll want to also download the free SWRG Users' Manual. Just use the link below.
SWRG:
http://s8wministries.org/speciality-pdf/spiritual-workout-results-guide.pdf
SWRG Users' Manual:
http://s8wministries.org/speciality-pdf/SWRG-Users-Manual.pdf
S8W Face Book Fan Page:
http://www.facebook.com/S8WMinistries
God already has all your faith strategies lined up for you in your daily growth cycle. All you have to do is apply yourself with the tools of Christ and trust yourself to the process.
Resistance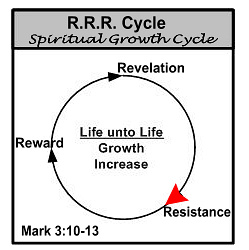 We have to now talk about resistance. When we ask Why do Christians suffer, we are asking about resistance. So, the question should be, What is the purpose of resistance? The answer is that the power (grace) uses the contradiction to further your faith just as the seed needs the soil. Meaning, just as soil is the perfect environment for the seed to germinate and push its way up to break through to gain the nourishment from the sun and grow to maturity, so also did God design grace to work within the environment of suffering. It is necessary to push through the challenge to gain the reward.
Grace + Suffering + Tools of the Covenant = The work of the Spirit to form Christ within.
When in resistance we are to consider the pattern Jesus set for us, suffering to glory. Even as Paul also wrote saying, "For consider him that endured such contradiction of sinners against himself, lest ye be wearied and faint in your minds." (Hebrews 12:3)
The scenario or situation or circumstance God designs for this conflict to arise is not to tempt you to do evil, but an opportunity for you to consider the pattern Jesus set for us to follow Him, and choose faith. God allows a challenge to the will to help you exercise it (your will) with the knowledge of the covenant and then He will reciprocate (reward) your choice of will to increase you by His power.
Even as James wrote, "Let no man say when he is tempted, I am tempted of God: for God cannot be tempted with evil, neither tempteth he any man." (James 1:13)
When in conflict for growth, God allows Satan to present the options for the choice of will. This is when the conflict is beneficial for you. As Satan presents to you the options for your will, you will be able to discern why the knowledge he gives you is false, where he hides his promises to you (lies), how he speaks to your imagination, what happens when you follow the shadow of his leading, and what happens when you stand in the revelation of the Spirit. God is also teaching you the difference between how Satan leads you to resolve conflict by motivating faith to address the issues and how God leads you to resolve conflict by motivating faith to increase the kingdom of God.
Exercise Your Faith Muscle
It is helpful to picture faith as a muscle that grows stronger and stronger each time it is exercised. If you have ever committed yourself to an exercise program of any kind, your intention is to gain the prize: better fitness, better shape, better health, or to win the prize in a competition. You do not doubt the rewards of engaging in this activity, so when do you generally experience resistance to the need to exercise?
Typically, resistance is experience when it is time to start. But once you put on your running shoes and your body is in gear, your muscles take over and you enjoy the benefits of having pushed through the resistance to exercise.
The same is true spiritually. You might resist making that choice of faith when you find yourself in resistance. As stated earlier, there's a natural rhythm that tends to occur when we are in resistance. We tend to revert back to the inclinations of the flesh [1]. There is a memory pattern there with the flesh muscle that kicks in (here I am talking about your signature, the God-Cod, and moral code, knowledge of this world, and fruits of iniquity) that was exercised a lot before you came into covenant with God and is now resisting this new movement you are asking faith to make with the covenant tools.
If you have worked faith with life situations and signature skills to prove God's blessings, favor, and love, it will be normal for you to feel as if you have nothing to hang onto at first. You're asking your faith muscle to work in a different way. Working faith with Jesus' covenant tools is actually the way God intended for faith to work, but faith was not used in this way before so you may experience a season of awkwardness with it.
But as you give yourself time to acclimate your faith to the rhythm of the Spirit you will experience the true liberty of God and you'll want to come back to that place of strength and communion with God over and over again. You'll notice that you're gaining something different out of the movement that you were not able to discern before because you lacked the experience and thus lacked discernment.
---
[1] Learn more about how human aspiration works with the inclination of man. A very careful study of the Inclination of Man reveals 18 different inclinations that we deal with on a day-to-day basis.
http://www.s8wministries.org/lesson.php?id=120&lesson=aspiration--the-jezebel-yoke-part-2