Suffering for God and Christian Response to Suffering
Suffering for God -Part 2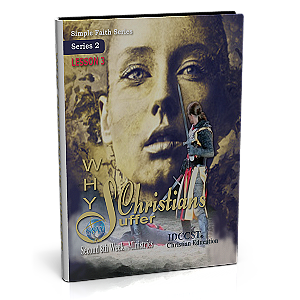 Lesson 4 of 7
Resistance Follows Revelation
Just as resistance followed the revelation Jesus received, so resistance follows the revelation you receive. This is what it is like to imitate Jesus and walk in His footsteps. Just as Jesus viewed resistance as an OPPORTUNITY to CHOOSE faith, so you too must view resistance as an opportunity to CHOOSE faith.
Do you see it now? Resistance is an OPPORTUNITY to choose faith. We see this plainly in Matthew 4 verses 4,7, and 10.
When you choose to respond in faith because you desire to increase God's kingdom by the fruit of Christ the Spirit will form within, God will reward your choice of faith with an increase of grace every time! That is the true testimony of all true believers. Having said that, it should be clear to you now that resistance is an OPPORTUNITY to bear fruit in God's kingdom.
Just as God led Jesus into the desert to be tempted (God set the scenario for Jesus to exercise His faith for the reward) so God also sets the scenarios for us to exercise our faith for the reward. As beneficial as this sounds, as I said, it's natural to resist resistance. So, when your spiritual growth cycle is in the movement of resistance I want you to pay attention and discern what is going on in your mind. Remember the 3 challenges Jesus faced? Satan challenged Jesus 3 times to respond according to the flesh. . .
1. To satisfy His appetite with carnal things.
2. To project into scripture with His imagination to prove God.
3. To gain increase by the tools of Satan's kingdom.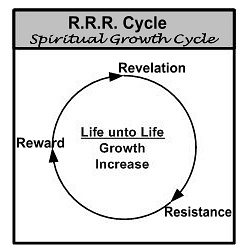 Exercise
: Look at the diagram of the spiritual growth cycle to the left. What do you think is the most critical movement of the regenerative cycle? At the point of revelation, or at the point of resistance, or at the point of reward? Some might say that the most important point of the movement might be
revelation
because it is as we feed our faith with the grace and truth of God that we gain God's perception as He unfolds Christ and all 9 pistons of grace are firing. Those are significant "wow!" moments that take place daily that have a direct effect upon the success of our faith to achieve the likeness of Christ!
Others may cite the reward as the most important point of the movement because we learn so much from the process as God confirms through each cycle of growth that He is faithful, His promises of life are true, and that His power is greater. By our experience with each reward of faith God is teaching us about His consistency to His plan that we may trust Him. He promised that grace is the greater power and peace buffers the soul, and our experience of that confirms Christ over and over again. Our choice to reciprocate Christ through the priesthood results in us carrying the testimony of life that replaces the testimony of death.
Faith is made like Christ through our reflections and acts as a mirror by which God sees a reflection of Christ in us. God is teaching you that trust comes through contact with Him through the tools He sanctified in the name of Jesus. We learn by experience what we gain from the process is God's perspective and that a severing always takes place in our thinking patterns. We gain so much and God is so faithful, dear friend to reward each choice of faith. I want to just encourage you to give yourself over to God in each growth cycle.
You could make a list a mile long of all the immediate benefits experienced as a reward of your faith. Can begin to see how discussion based on the 3 movements of faith are extremely powerful?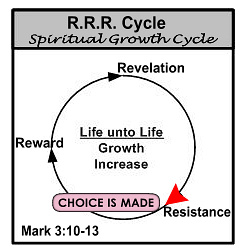 The benefits of your growth cycle while in revelation and reward are extraordinary and important to note. But let us consider now the importance of recognizing when faith moves into the point of resistance. You may have observed from the diagram that this is when the choice of faith is made. Ahhh! The choice of faith is absolutely the most critical time of your cycle of growth.
God drew you into this scenario to allow you this opportunity to choose faith. Never pass up an opportunity to engage God in this time of fellowship, using the pattern of Christ for faith.
If you allow the opportunity to slip then the movement of your faith does not continue to the reward and you really don't gain what God assigned for this growth cycle and He is not able to cement into your thoughts His perspective.It is so important to stay in your priesthood. Keeping your faith engaged in your priesthood during the day even if it is just to give it a mini 5 to 10 minute workout. I can't stress enough the importance to keep yourself in that place where you see these opportunities to express your faith in Jesus in times of resistance.
I recommend praying in tongues, reading the Bible, and listening to good Bible teaching. Downloading Apostle Eric vonAnderseck's audio teachings onto your phone or ipod is great way to stay fueled on the go. Visit our website to take advantage of our free downloads:
www.s8wministries.org/audios.php?id=30
.
The more you hear the Word, the more you'll succeed at building yourself up in the faith to prepare yourself to face each resistance to overcome yourself, the world, and the devil. Another good source for Bible teaching is Apostle John Welty's live video streaming channel. You can visit his channel by using this link:
https://new.livestream.com/ajwelty/
Any of the apostles, prophets, evangelist, pastors, and teachers of Second 8
th
Week Ministries would be glad to help you understand more about the cycles of your growth. You are welcome to post your questions on our Face Book Ministry Fan Page and learn from the discussions:
http://www.facebook.com/S8WMinistries
Faith is a Wonderful Fellowship With God
Recently, while watching a movie, God drew my attention to something. The architect hired to landscape a garden for a rich land owner in the 1800's explained to the owner the purpose of the garden. He said that the pattern of the garden was laid out in such a way as to create a sanctuary of beauty. But the point from which all the pattern makes sense is the house itself. He further explained that the garden existed for this purpose only, so that the garden reflect glory, and prestige, and power upon its owner.
This speaks so beautifully of the purpose of our fellowship with God, to create in our souls this beautiful garden that would reflect Him. And it also speaks so wonderfully of the pattern of knowledge we use in Christ. The pattern of the priesthood, the pattern of the tools, the pattern of our growth cycle creates this garden in our souls and the Lord looks upon that and He sees a reflection of the pattern of His own soul and we bring honor, glory, and prestige to His House. (Isaiah 58:11)
But the god of this world wants this honor for himself. The Deceiver wants to take God's glory and desires the soul to reflect his honor (which is darkness). This is why he drives faith towards the flesh. The yoke of his knowledge is not easy to carry. It will weigh the mind down with
suspicion: who is doing what to whom;
regret: I should have, could have; what if I had done that differently; and
a longing to fill the holes in the heart: I need, I want, I desire; and
an urgent need to fix things to find a happy place: In other words to find peace and security in this world.
It's important to remember that the tongue testifies of the altar it carries. The New Testament altar is constructed with the stones of Christ's knowledge while the altar of the flesh is constructed with the stones of the knowledge of the world. You'll find that the conversation of young believers or those who are weak in the faith is centered on the perspective of the flesh in regard to the challenges. They are still carrying the altar of the flesh and that's why they look at it that way.
They may at times say they "tried faith", but it does not seem to work for them. In other words, they still face the same thoughts they imagined would vanish into thin air once they came into covenant with God. Or, they "tried" to keep their focus on Christ, but got distracted.
What happens is that he/she is failing to recognize resistance and the opportunity God is presenting to choose faith. God challenges these thought patterns of Satan's garden to point out this exact thing to us – the kingdom of the flesh is a heavy burden to bear. He points this out because He is preparing the mind to separate from this burdensome thought pattern.
We are admonished, "Despise not the chastening of the Lord" (Hebrews 12:5). The hand of God's love is in this. It's not that He desires to see His children afflicted, but there is a severing that needs to take place.
Do You Struggle in the Faith?
Earlier, we read Hebrews 12:3, "For consider him that endured such contradiction of sinners against himself, lest ye be wearied and faint in your minds." So, we can see that a struggle is taking place in the mind. And often times young believers are doing the right thing (using the tools of Christ to identify Christ by his tools), but are thrown by the "struggle". They wonder why they are "struggling". The Deceive gets them to doubt their faith based on 2 false accusations against Christ to detract from Him. This is how it happens. . .
1.
The presence of Satan's false knowledge (altar of the flesh) lays heavy on the heart and Jesus said His burden is light and easy. So the spirit of this world gets you to wonder, Why am I experiencing this heavy burden and find faith difficult?
2.
The burden of the Deceiver's false knowledge is used to imply that you are not an overcomer, weighing you down further by measuring Christ to the flesh.
The problem, first of all, is with the word "struggle". It implies that faith is weak or that you are unsure of how to properly use faith to please God, when in fact, being in covenant with God and receiving instruction from God's chosen apostles today, you know how to use Jesus' spiritual tools in your priesthood, you are 100% sure about how faith works and how to please God.
A problem occurs where we allow the thought patterns of the kingdom of the flesh to speak for our faith to represent us before God, and thus detract from Christ. If you were to strike over the word "struggle" and replace it with the word "challenge" everything changes. What happens as your growth cycle moves into resistance is that you perceive a challenge to your faith. That is quite normal. You should perceive a challenge to your faith. God allows your faith to be challenged every day to trigger your faith, to activate it. This is the will of God.
Many times I'll hear believers say that they are struggling with a sense of hopelessness, or a negative self-image, or a season of attacks. What's happening is that they are not recognizing the challenge God is allowing and fail to respond in faith and so end up engaging the enemy on the battlefield of the flesh where they become pawns of the spirit of Antichrist.
Have You Asked God for Healing in Your Thought Life?
If you have asked God for this healing in your thought life, the Holy Spirit made intercession for you while you prayed in tongues and now God set the scenario to challenge those deep seated traditions of the mind. You're going to feel weak and vulnerable as God skillfully makes these distinctions for you. But, God's challenge does not mean your faith is struggling. Your perception changes when you understand this important key point!
Can you also see a problem developing when not rightly discerning whose knowledge the mind is working with? The presence of Satan's false knowledge is the heavy burden. What you're experiencing is the heaviness of Satan's knowledge, you're not experiencing the heaviness of Christ's knowledge are you? You are experiencing the heaviness of Satan's knowledge.
Can you see more clearly now how the spirit of Antichrist works to counterfeit Christ by switching the record of man (heavy burden) for the record of Christ (light burden). The counterfeit switches your attention onto your signature skills, hoping to find yourself. This is a classic example of how distraction takes place to detract from Christ.
Of course you are going to experience low self esteem in the absence of the power of the Holy Spirit. The Spirit of God will only confirm Christ, not us. Once you pick up on this, that the feeling of hopelessness and loss of self esteem is because the knowledge you're holding onto (the record of your soul) does not carry the divine likeness you will also understand how the Deceiver got you feeling hopeless. When the light turns on for you on that one that's another "Wow!" moment.
If you missed that, you'll soon get it once you have a few growth cycles under your belt. Of course you're also going to feel vulnerable as God peels back the layers of deception to free your mind. Right then is a good time for the Deceiver's to imply that you are not an overcomer. But if you choose faith, YOU ARE AN OVERCOMER!
Choose Faith
When I say "Choose Faith" I mean that I want you to begin to reflect on what is happening in your mind and differentiate to discern. If you are going to stand by faith, you are going to have to resist fighting against the devil with the moral code. You can't win by fighting these thoughts with the moral code, but you can win by the virtue of Christ. Do you see the distinction I am making?
The apostles of our Lord are instructed of Christ to guide the church in reflection. Paul wrote, "Think on these things. . ." (Philippians 4:8). Paul is of course speaking of reflecting on Christ. We are called upon to reflect when the challenge is present. Logic wants to weigh the contradiction on the scale of the moral code to help you fight the moral code for equity and peace. But Christ is the power for equity and peace, not the moral code. You are no match for the moral code. The fight for equity will go on forever until you collapse from exhaustion.
However, you can fight for equity with grace. That's what your training is all about! The building of thoughts as we wrestle with grace strengthens faith by that power that is superior to the moral code. God teaches you these distinctions to severe you from the world to Himself. God's not asking you to overcome the challenge in your own power.
Know this: If the Deceiver can convince you that there is something wrong with God's plan to test and reward your faith or something wrong with your faith then he has weakened your hands. Be encouraged dear friend, if you stay in your priesthood Jesus will be your shield. He will remove Satan's yoke, allowing you to walk in the fulness of all spiritual blessings He has for you.
Ask Yourself: How do I Respond to Resistance?
Do I accept the challenge of faith as an opportunity for fruit bearing or do I respond to the challenge according to the flesh to try to find clarity about myself?

When in the resistance movement of my growth cycle do I resist resistance or do I pay attention and discern what is going on in my mind?

How do I respond to suspicion or regret or an urgent need to fix things? Do I perceive the challenge and discern that faith has moved into resistance or do I allow myself to get distracted?

Do I fight for equity and peace with the moral code or do I fight for it with grace.
Hebrews 12:1-3
12 Wherefore seeing we also are compassed about with so great a cloud of witnesses, let us lay aside every weight, and the sin which doth so easily beset us, and let us run with patience the race that is set before us,
2 Looking unto Jesus the author and finisher of our faith; who for the joy that was set before him endured the cross, despising the shame, and is set down at the right hand of the throne of God.
3 For consider him that endured such contradiction of sinners against himself, lest ye be wearied and faint in your minds.