Suffering for God and Christian Response to Suffering
Trust Faith to the Tools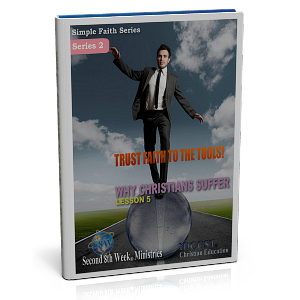 Lesson 6 of 7
It's important to allow yourself to get stronger by using the right tools for your faith. You can confidently trust faith to the tools. Let's go back to the example of weight lifting to clarify what we're talking about here. I'm sure that many of you are familiar with weight lifting as a means to build muscle. To make this happen, they say your body needs 2 tools: oxygen and water. Your muscles need a continual supply of water and oxygen to fuel them for growth.
In God's kingdom you need the 9 tools
[1]
of Jesus' covenant to keep your faith fueled and your faith muscle properly working for growth. Your faith needs these spiritual tools: government, truth, Spirit; the gifts, the callings, graces of God; prayer, preaching, and prophecy (priesthood prophecy). By these tools the righteous prepare themselves to walk in cadence with God.
Praying in tongues
is your primary tool because it is as you pray in tongues
[2]
that the Holy Spirit is making intercession for YOU, searching YOUR soul to identify the thinking patterns God is isolating for healing (Romans 8:26-29).
Priesthood prophecy is also a major tool. By this tool you reciprocate the knowledge of Christ and your faith mirrors Him. By priesthood prophecy you are expressing Christ through knowledge, which God accounts as "charity". The priesthood is a gift from God to keep your mind busy with His knowledge.
Your Priesthood is Your Armour
I often hear believers say that they want to overcome the negative thought pattern the accuser plants. But this is a misrepresentation of the spirit of Antichrist, my friend. He wants us to see his thoughts as "negative" because he wants to teach us how to stay in the rhythm of the flesh (to measure our thoughts by our own record).
He can then pretend to be Christ by countering his own "negative" thoughts by offering "positive" thoughts (what God will do for us). But the thoughts are still on the battlefield of the flesh. Faith is STILL engaged with the record of the flesh. Nothing has changed. This is why God refers to the Deceiver as the spirit of Antichrist.
Your priesthood is where you turn things around and focus your thoughts on the record of Jesus Christ. You learn to recognize the power of grace and to live in that power. Once believers have that experience under their belt they no longer look for magical "prayer strategies", which is another counterfeit of the wicked one.
I know that might be hard for some to hear. The church went through a season of testing with this knowledge, binding Satan and loosing blessings, finding scripture that look promising to the flesh and praying prayers to claim that for themselves. God allowed the church to go through this season of testing it to help you clearly see the counterfeit.
Once you understand the power of the God-Code imprinted upon your soul (which the wicked one does not want you to see) you will then understand how the spirit of Antichrist peddled "speed" pills to the church to keep believer high on the God-Code thinking they were experiencing the power of God. It was very easy for the Deceiver to use the God-Code to motivate faith to reverse circumstances.
If that has happened to you dear friend, do not be upset or condemn yourself. God wants to free you now, not condemn you. Once you decide you want to get off spiritual speed then God can help you. God wants you to see the importance and benefits of true spiritual government.
Government is another important spiritual tool. Your faith needs a foundation and it is God-called apostles that give faith the proper foundation for you to build upon Christ. Proper instruction and training is vital! Without it you will fall victim to the spirit of Antichrist whose counterfeit government uses the record of the flesh to activate faith in place of the record of Jesus Christ.
Each tool of Jesus carries His divine law of grace and truth (John 1:17), which is the pattern of Christ by which God identifies us as His firstborn. Right now I'd like you to visualize the 12 Foundation Stones of knowledge: (1) Grace, (2) Faith, (3) Righteousness, (4) Justification, (5) Sanctification, (6) Holiness, (7) Peace, (8) Rest, (9) Charity, (10) Truth, (11) Regeneration, and (12) Renewing of the Mind. This is the pattern of knowledge the Holy Spirit works with to confirm Christ in you. Proper instruction in the meaning of Christ in each Foundation Stone means that you will activate faith to build on this record rather than your own.
Get familiar with all 9 spiritual tools of the Second Covenant and how God uses them to create an environment for your faith to strive lawfully with the record of Jesus Christ. Even as the scriptures declare, "And if a man also strive for masteries, yet is he not crowned, except he strive lawfully." (2 Timothy 2:5)
Prayer Break: God I give you permission to lead me through my cycles of growth. I desire to work with you and ask that you help me learn how to identify Christ in His knowledge and stay in my priesthood to overcome myself, the world, and the devil.
Satan Will Come to Resist Your Faith
We learned about resistance and its movement in the spiritual growth cycle and we learned that God Himself sets the scenarios for resistance to occur (He is in control, not Satan) to challenge Satan's perspective. These important first steps to learning resistance gets us familiar with the movement, keeps us accountable to Christ, and keeps us watchful for these opportunities to choose faith.
We learned that resistance is not strange, but a blessed opportunity that must be embraced. Even as Apostle Peter instructed, "Beloved, think it not strange concerning the fiery trial which is to try you, as though some strange thing happened unto you. But rejoice, inasmuch as ye are partakers of Christ's sufferings; that, when his glory shall be revealed, ye may be glad also with exceeding joy" (1 Peter 4:12-13). And Apostle James wrote, "My brethren, count it all joy when ye fall into divers temptations." (James 1:2)
What I want to focus on now is learning that resistance is also about how Satan comes to resist your faith by challenging the grace of God. Remember, Satan challenged Jesus after He received revelation. Do you see the pattern? Satan will challenge grace.
Satan's challenge to the revelation of God:
1. To satisfy your appetite with carnal things (the 5 facets of the flesh).
2. To project into scripture with His imagination to prove God (to use the flesh as
the likeness faith is to gain, which thing God calls aspiration).
3. To gain increase by the tools of Satan's kingdom (the 3 fs: flattery, fantasy, and
finance).
God had said to Jesus, "You are My beloved Son in whom I am well pleased," thus showing us that we are to follow Jesus' footsteps by reflecting the same testimony: The Holy Spirit will rest upon Jesus Christ to confirm His record, the Holy Spirit is not sent to confirm the record of our flesh.
The Deceiver though will challenge this testimony every day. You will experience that challenge and then choose faith by reaching for one or more of the 9 tools of Jesus' covenant to rehearse His testimony for your faith.
Your Faith Benefits From Working Against This Resistance
The trial of your faith challenges the tethering and voice of the flesh to give you an opportunity to activate your faith. Your faith benefits from working against this resistance. As the Bible says, "Tribulation works patience," (Romans 5:3)
When faith is in the resistance movement of the cycle, the soul will naturally seek for that which is it missing or lacking. This is actually where fear comes in. Fear is the result of lack or loss. Satan works to challenge your faith to find comfort in the flesh, to fill up what you perceive to be lacking from God.
But wait a minute! Where did we gain a perceptions that we lacked anything from God? That perception was gained from Satan. I want you to see how quickly perceptions are gained and how necessary it is for God to challenge each testimony that Satan wants to plant within the mind to mold your understanding. You'll notice that when that perception is present you feel unsure of yourself. You feel uncertain, like you are not an solid ground.
God knows that the Enemy peddles his false knowledge every day. God sets the grounds for your faith to experience this challenge to train your faith muscles to find equity in Him alone. To understand this better, think of how a stability exercise ball works. It is used in an exercise program to create a situation where the body responds to the instability of the ball by fighting to remain balanced. It is forcing the muscles have to engage and the muscles benefit from the challenge. Your faith is the same way.
God introduces situations that challenge your mental and emotional comfort zones. The temptation is to use the flesh to regain equity. But God wants you to engage your faith (reflection on covenant and use of the tools) to find your equity in Him.
By each challenge, the Spirit emphasizes that a conflict exists between these 2 kingdoms. It is God's will and plan for your faith to be tested and rewarded. The most important thing to keep in mind is that the Spirit of God led Jesus into the wilderness to be tempted of the devil. This means that God was and is in control, not Satan. This means that God set the scenarios for Jesus' testing. So then, when you face resistance, it is God that is setting the terms for the testing of your faith, not Satan. God does not tempt you to do evil, but He allows your faith to be tested because His plan and desire is to strengthen your faith and reward your choices of faith.
We are called to be overcomers. "Ye are of God, little children, and have overcome them: because greater is he that is in you, than he that is in the world." (1 John 4:4)
"
He that overcometh shall inherit all things; and I will be his God, and he shall be my son." (Revelation 21:7)
---
[2]
Learn more about God's plan for you to pray in tongues. Free online lesson:
http://www.s8wministries.org/general.php?id=23