What is Grace - God's Meaning and Definition
What is Grace -- 9 Operations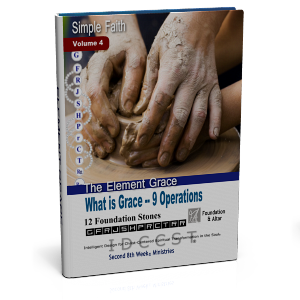 Lesson 4 of 5
What is grace? When the church got away from the true meaning of grace, she also got away from the true purpose of the operation of God in grace. For what purpose is grace given? Why is grace so very vital for our day-to-day Christian life? To get at the very heart of the grace of God we need to get back to God's purpose for issuing grace to you daily, and that is to perform His craftsmanship in your soul, to form the image of Christ in you.

We were born in sin by our first birth, but when we are born again in Jesus Christ we are born into His righteousness, and God began His work to restore the soul to the image of Christ. As you pray in tongues the Holy Spirit goes into each cavern of your soul to heal the soul of the wounds received while in Satan's kingdom.

The will that was once bruised, now needs to be daily strengthened.
The soul that once labored with false knowledge to find equity in the flesh now needs to learn how to labor with new knowledge to find equity in God.
The perception the soul once gained while in the kingdom of darkness needs to be daily circumcised to gain a new perception in Christ.
We used to weigh our experience on the scale of the moral code, blindly building confidence in the fruits of iniquity that Satan formed in us when he was our parent. We now learn to build new confidence in God, using the scale of His truth to weigh the virtues of Christ we experience in each issuance of grace.
We used to experience a daily cycle of death unto death whereby the soul continued to come back to the knowledge and experience of this world that brought it into bondage. But in Christ we now experience a new daily cycle. A cycle of life unto life whereby the soul follows Jesus' example He set for us by His experience. . . revelation, resistance, and reward.
In the place where iniquity used to increase unto iniquity, grace now reigns to increase grace; faith increases faith, and righteousness increases the fruits of righteousness. This is why the scriptures speak of an abundance of grace, grace multiplying, faith increasing, and the fruits of righteousness exceeding the fruits of iniquity.

"For all things are for your sakes, that the abundant grace might through the thanksgiving of many redound to the glory of God" (2 Corinthians 4:15).

"Not boasting of things without our measure, that is, of other men's labours; but having hope, when your faith is increased, that we shall be enlarged by you according to our rule abundantly" (2 Corinthians 10:15).

"Now he that ministereth seed to the sower both minister bread for your food, and multiply your seed sown, and increase the fruits of your righteousness" (2 Corinthians 9:10).

You'll never fully understand God's grace if you can't connect it to God's purpose for your salvation to return your soul to the likeness of Christ. God wants to work in you to form the fruit of Christ in you. As the Spirit also instructed Paul who wrote, "Wherefore, my brethren, ye also are become dead to the law by the body of Christ; that ye should be married to another, even to him who is raised from the dead, that we should bring forth fruit unto God" (Romans 7:4).

When we were in the world we followed the rhythm of sin that worked in our thought patterns to bring forth fruit unto death. Being in Christ, God begins to challenge these thought patterns and perspectives that we then, by His power, overcome. For Paul wrote further by the Spirit saying, "For when we were in the flesh, the motions of sins, which were by the law, did work in our members to bring forth fruit unto death" (Romans 7:5).

The Fruit of Iniquity Confirms the History of Our First Birth

Many coming into the covenant of Jesus Christ ask, "What is the fruit of iniquity?" This is the "fruit unto death" one experiences while in the kingdom of darkness. While "sin" is the system of contrariness to God that Satan promotes, and governs, and inspires by seducing spirits to express his own darkness, "sins" is the fruit of that kingdom, which God identifies as iniquitous, born of Satan.

While the fruit of the Spirit is love, joy, peace, longsuffering, gentleness, goodness, faith, meekness, and temperance, the fruit of iniquity is manifest, which are these; Adultery, fornication, uncleanness, lasciviousness, Idolatry, witchcraft, hatred, variance, emulations, wrath, strife, seditions, heresies, envyings, murders, drunkenness, revellings, and such like (Galatians 5:19-25).

Each one of us experienced abuse while in Satan's kingdom under his stewardship and tutorage. We learned how to work with his knowledge and we struggled under the weight of sin (the system and knowledge of Satan). The fruit of iniquity he formed in us confirmed the history of our first birth as each cycle of death testified of the lack of the virtue of Christ.

The wounded soul needed a new birth into God's kingdom through the blood of Jesus Christ and the power of His Spirit. We needed new knowledge to work with (covenant truth); We needed a new power to work with (grace), and new stewardship (apostolic stewardship) under the care and tutorage of our Lord.

We now experience a daily circumcision taking place as God brings healing to each place where Satan caused distortion in our thinking patterns to keep us prisoner to his lies. Where Satan sowed death, God now sows the life of Christ. We can understand why the apostles, by the Spirit, directed faith to labor in the priesthood for our daily overcoming of self, Satan, and the world.

It is God's Will to Form Christ in You

It is God's will and good pleasure to form Christ in you. And He does this by daily issuing His grace to you to communicate, reveal, illuminate, enlighten, and awaken you to Him. God's daily issuance of grace teaches you how to find your strength, confidence, and peace in His tethering. You begin to learn that His power is in His grace.

Simply saying, "It's all by God's grace, it's all by God's grace" doesn't provide the understanding God wants you to have. It's a vacuous statement about grace that lacks substance. Not understanding the operation of God in grace, not understanding the connection between the grace of God and the tools of the covenant, the priesthood and your cycles of growth, and the work of the Spirit to form Christ in you, grace becomes another "fluff" word Christians use to help them to blindly feel their way through faith.

It has been extremely challenging for God to transition the church out of a poetic, vacuous mindset about His grace. It's all that is heard. If you can imagine for a moment the grace of God as a flock of birds taking flight, you might experience a beautiful sense of hopefulness as your heart soars, contemplating what wonders might be found, but you would still not have a clue about grace and what it does and how God issues it and what He wants you to do with it.

God wants you to ground your imagination while He takes you through the 9 operations He carefully designed in grace to educate you to the protocol of His courts and how you are to behave in His house (the expectations of your faith that God already designed in Jesus Christ).

The revealing of Christ to you is purposeful. While Satan taught how to use grace for aspiration, God teaches how to use grace to increase the soul in the likeness of Christ.

God is not asking us to envision what grace means to us, but asking us to accept what grace means to Him. God's 5 key definitions carefully lay before our understanding God's strategy to keep us tethered to Him while He does His work in us.

Do you know it's possible to thank God for your salvation every day and still not ever really live it? You can thank God for the blood of Jesus and thank God for His love and still miss out on everything God has for you by missing out on His grace.

You might be thinking, "I'll figure it out." But while you have your eyes on the horizon, feeling the adventure of Christianity before you, you're missing God's purpose for you to reflect the image of Christ because you're missing the true meaning of His grace. God doesn't want you to try to figure out His grace on your own.

The Three Primary Reasons God Grants Grace
There are three primary reasons God gives grace. . .
Grace is given that the fruit of Christ might be formed in the inner man. Jesus said, "Herein is my Father glorified, that ye bear much FRUIT; so shall ye be my disciples." John 15:8.
Grace is given that we might know God, and God might know us. God knows us by the fruit He forms in us. Jesus said, "And this is life eternal, that they might KNOW thee the only true God, and Jesus Christ, whom thou hast sent." John 17:3.
Grace is given to prepare us to serve God in our priesthood and in our calling.
Apostle Paul said, "If a man therefore purge himself from these, he shall be a vessel unto honour, sanctified, and meet for the master's use, and PREPARED unto every good work." 2 Timothy 2:21.
I'd like to continue our focus on the first primary reason we listed for God's daily diet of grace. How many other scriptures can you find in the Bible that talk about God's plan to form Christ in the inner man, to make you a new creation in Him? How many different ways did the apostles teach this vital point?

The apostles taught about believers needing the "divine power" for the "divine nature" (2 Peter 1:3-4), God wanting to "form Christ in you" (Galatians 4;18), wanting you to "walk in newness of life" (Romans 6:4), God wanting you to be "conformed to the image of Christ" (Romans 8:29), becoming "a new creature in Christ" (2 Corinthians 5:17)

The 9 Operations of God in Grace

Let's now look at 9 distinct operations of God in grace to help us understand this power of God to transform the soul to the image and likeness of Jesus Christ, that we might know God through this experience:
God issues grace to give a heart to perceive….. Acts 12:11.
God issues grace to give strength to the will. ….. James 4:6.
God issues grace to create equity in the inner man….. Psalm 99:4
God issues grace to create single mindedness….. 2 Corinthians 12:9.
God issues grace to create sober mindedness.….. 1 Peter 1:13
God issues grace to nourish the heart.….. 2 Corinthians 9:8.
God issues grace to enlarge the heart….. 2 Thessalonians 1:3
God issues grace to keep us rooted in Him.….. 1 Peter 5:12
Read about the 9 operations of God in grace in further detail by resourcing the KOP Series "Grace for Growth"

I'd like you to take a piece of paper and list these 9 operations of God in grace and next to each operation, write, "This is the life of Christ." The grace of God begets these things that we may experience Christ.

Keep the 9 Operations of God handy along with the 5 Definitions of Grace and you'll begin to make the connection between God's voice and His power in your growth cycles.

Grace is God's Daily Visitation

"We have also a more sure word of prophecy; whereunto ye do well that ye take heed, as unto a light that shineth in a dark place, until the day dawn, and the day star arise in your hearts." (2 Peter 1:19)

Grace is God's daily visitation to you. Grace is the light of knowledge that dawns upon the heart every day. Just like God visited Peter with a revelation that Jesus is the Christ, the Son of God, He will visit you with revelation to confirm Jesus Christ to your heart every day. We studied that in the previous lesson where we read. . .

"Matthew 6:17 illustrates perfectly how the grace of God reveals Jesus Christ to the heart. Jesus had asked the question, "Who do men say that I, the Son of man, am?" And Peter said, "You are the Christ, the Son of the living God!" And Jesus replied, "Blessed are you, Simon Barjona; for flesh and blood has not revealed it unto you, but my Father which is in heaven." Grace carries the conviction of faith for righteousness. Grace, by the knowledge and understanding God shares, frees the heart to reason for faith."

Everyone is familiar with the awakening of the soul by the grace of God, for all have experienced it at some point in their life. Some responded in faith and came into covenant with God to continue in the grace of God and some were swept up in many false belief systems where the echo of the imagination (the voice of Wilson) replaced the grace of God. Their souls became empty and void of grace.

Don't let that happen to you!

Grace is the Virtue of Christ

We cannot know God but by the continued revelation of the Spirit, which is what God designed grace to do. We call grace a virtue (power) of Christ because it is by this visitation that the life of Christ is experienced, drawing faith from your heart, giving you a heart to perceive Christ, strengthening your will, creating equity between soul and spirit, creating single mindedness and sober mindedness, nourishing your heart, enlarging your heart for more grace, and keeping you rooted in Him.

These are very tangible and real experiences God grants to you to tutor you in His grace, to teach you as a son or daughter to remain tethered to Him, to train your senses to hear His voice, to train you in spiritual warfare how to weigh each kingdom (light or darkness) by the powers they present to you.
God wants to teach you that His voice is not the voice of Wilson.
God wants to teach you that the knowledge of the world weakens your will, but grace and truth strengthen your will.
God wants to teach you that His grace will never fail to draw faith from your heart and that His peace will always accompany His grace. This is why the apostles many times began their epistles with these words "grace and peace be unto you". They were not being poetic, but rather teaching the church how these 2 elements work together to allow you an experience in Christ.
God wants you to reason faith on the grounds of His grace and truth rather than your logic.
God wants you to learn what it means to grow in confidence of His visitations of grace. This is why He sets grace upon the proving grounds of suffering. "Do you love me more than these?" as Jesus said to Peter.
God wants to teach you how to measure your worth in Him by grace and truth rather than on the scale of your moral code and signature gifts.
God wants to teach you that His grace is enough for you.
Apostle Paul knew the operation of God in grace and this is why he instructed Timothy, "Be strong in the grace that is in Christ Jesus" (2 Timothy 2:1). Many want to dismiss the grace of God from their day-to-day experience of salvation by saying that we are not to base faith on our feelings, yet the power of God in grace is not a "feeling", it is an experience, a virtue. It is the tangible life of Christ, giving substance for your faith to labor with to serve God and worship Him to receive the healing of your soul.

Now you can understand Ephesians 1:6 much better: "To the praise of the glory of his grace, wherein he hath made us accepted in the beloved."

Keep Grace Joined to Truth

Paul also taught the Colossians that grace must be mixed with truth (the record of Christ) for the fruit of Christ to be manifested in their hearts. He wrote, "Which is come unto you, as it is in all the world; and bringeth forth fruit, as it doth also in you, since the day ye heard of it, and knew the grace of God in truth," (Colossians 1:6).

Did you know that faith is dead when grace is cut off (severed) from God's truth. Faith depends on grace remaining joined to truth.

Satan has spawned over 33,000 different Christian belief systems in the world today, each measuring faith to the record of themselves (their own truths). God designed a belief system in Jesus Christ that measures faith to a record other than self—the record of Jesus Christ; His truth. Grace must be joined to Jesus' record of truth.

Grace is the Living Letter of His Word

It should be clear to you that God wants you to know Him by the Spirit and not by the text of the Bible. The grace of God is the living letter of His word written in your heart that you may know Him.

Each of the 12 Elements of the Gospel is a stone in the altar of Christ, which is the altar of the soul, reflecting the altar (Jesus) in heaven. We, as His royal priests, use the stones of His knowledge to build an altar to worship Him in prophecy, testifying of Christ in each of the 12 Elements (altar stones): (1) Grace (2) Faith (3) Righteousness (4) Justification (5) Sanctification (6) Holiness (7) Peace (8) Rest (9) Charity (10) Truth (11) Regeneration (12) The Renewing of the Mind.

By these God speaks to you of Jesus Christ. And just as these 12 Foundation stones are the common knowledge of believers, the grace of God is the common source of inspiration for all believers to express Christ.

We have a priesthood of knowledge. As you offer spiritual sacrifices of prophecy to God, He reciprocates by writing His commandments of grace in your heart. Grace continues to flow as faith continues to labor.

Grace works with the pattern of truth to cleanse the soul. God molds your thinking by the 12 Elements; Otherwise the conscience remains defiled, which is death, not life.
Wherever Satan has corrupted God's belief system you'll hear believers bringing sin to remembrance because they haven't transitioned out of the kingdom of darkness yet.

Grace is Your Tether to the Throne of God

If by grace we are saved (Ephesians 2:8) then it is by continued issuance of grace that we continue in our salvation (Jesus Christ). We continue in Christ by continuing to receive and respond to His grace. Grace is God's daily lifeline to His throne.

"Let us therefore come boldly unto the throne of grace, that we may obtain mercy, and find grace to help in time of need," (Hebrews 4:16).

God's Grace is Sufficient

God's grace, mixed with truth, is the only power you'll ever need to know God and bear the fruit of Christ in the inner man. It is the only power you'll ever need to overcome yourself, the world, and the devil.

This is what Jesus said to Apostle Paul, which he in turn stewarded that knowledge and tethering to the church by writing, "And he said unto me, My grace is sufficient for thee: for my strength is made perfect in weakness. Most gladly therefore will I rather glory in my infirmities, that the power of Christ may rest upon me" (2 Corinthians 12:9).

The Pathways to God's Grace

Grace is the divine power for the divine nature. But there isn't any "grace pill" you can pop every day to get your daily dosage of grace, is there? Right away, I want to see the need for God to create certain pathways to grace that faith is to follow.

While some claim a "state of grace", that is not what God had in mind either. Faith has to have a form of contact with God through Jesus Christ that He might mediate the covenant on our behalf. Faith is therefore an activity with the tools (tokens) God sanctified for our contact with Him.

The token has to be equal to God to be accepted and sanctified for faith in order for the Holy Spirit to work with it. This is why Jesus is the only token of your faith. He represents us to God and when God looks upon the token (Jesus Christ) He accepts our faith and reciprocates the virtues of Christ, which gives life to the soul. When faith is engaged with Jesus' spiritual tools, the Holy Spirit moves upon faith to provide the powerful witness that we see in the 9 operations of God in grace.
9 Tools of Jesus' Covenant
Each tool is a pathway for grace
Government --- is a pathway to God's grace.
Truth – is a pathway to God's grace.
Spirit – is a pathway to God's grace.
The gifts of the Spirit – are pathways to God's grace.
The callings of God – are pathways to God's grace.
The manifold graces of God – are pathways to God's grace.
Prayer – is a pathway to God's grace.
Preaching –is a pathway to God's grace.
Prophecy – is a pathway to God's grace.
For your faith to be living, your faith must be engaged with these things that God provided in Jesus Christ for you to express Him. Each tool of the covenant is "the path of life" that leads us into the presence of God, as the Psalmist wrote, "Thou wilt shew me the path of life: in thy presence is fulness of joy; at thy right hand there are pleasures for evermore" (Psalm 16:11).

We see in grace the promise of life in Christ, which is being expressed by faith as we labor with each of the 9 tools. God initiates grace to draw a response of faith from us, that we would increase in our labor with the tokens (tools) of Christ. Can you see the cycle from life unto life?

Faith is a choice we make to labor with the tools of Christ to increase in God's grace. Here we again see the importance God gives to the priesthood of all believers. Your faith must labor with the knowledge of Christ at His altar.
Learn More about why Jesus Christ is the divine contact point for your faith and that when you exercise your faith with His tools, we are touching Him. Go to "Jesus our Contact Point" lesson from the course "The Tools of the Covenant".

Because Jesus is the Token, He is the Sign we Follow

Remember, physical tokens such as water baptism, communion, and tithing are subject to time so they are perishable. Death is hidden in them; As Apostle Paul, by the Spirit, taught that the tools of Christ are not those things that can be "touched", "tasted", or "handled", all physical tools perish with the using (Colossians 2;22).

God wants us to know that physical tools cannot represent Jesus Christ. Jesus is our mediator, therefore all signs are in Him. Just as God put a rainbow in the clouds as a sign of His word and promise to man, Jesus is now the Word, sign, and promise to man.

These signs are all the spiritual things the apostles talked about: Government, truth, Spirit; the gifts, callings, and graces of God; prayer, preaching, and prophecy. These signs are in Christ, which connect us to true charity in the priesthood, and therefore these are all signs of a true believer.

When faith is active with these tokens of Christ, the sign of Christ's virtue will be present (the 9 operations of God in grace) and the daily transition of the soul a living and tangible reality.

When faith is not engaged with the tools of Christ, then everything about faith is worked out in the imagination of how things should be, but the pathway of grace does not exist and Jesus is not mediating on your behalf; And it is that faith that will save you.

There are many benefits from learning the pathways to God's grace. Later, when you're asking yourself what you learned in a cycle of growth, you don't want to be learning the lessons of the moral code, you want to be learning by gaining experience with the grace of God.

God's promise is that His grace is issued from His throne (Hebrews 4:16). As stated earlier, this means that grace is our tether to God. God carefully designed the tools of Jesus' covenant to carry His grace; to be "grace carriers". Jesus' tools are like a voucher. We daily use the vouchers (tools) to receive His grace. Each of the 9 tools are pathways to God's grace.

To claim a "state of grace" is to deny the pathways of grace and function of the priesthood. We would then miss the mediation of Jesus Christ and lack the spiritual operations of God upon our soul and mistake the power of the signature and power of the God-Code and power of the moral code for the presence of God and the virtue of Christ.

Grace Enables You to Grow in the Likeness of Christ

Now we can perceive Christ by that which the Spirit gives; For the Spirit of God enables us to grow up into Christ, even as Apostle Paul wrote, "But speaking the truth in love, may grow up into him in all things, which is the head, even Christ" (Ephesians 4:15).

Growth has to do with Christ being formed in the inner man. So the Lord, by the light of His knowledge (grace), makes connections with the knowledge of Christ and His work in us by His Spirit to enable us to overcome self, the world, and the devil.

A lot of people can identify with an enabling. If you think about how you like to do things that come natural to you; Some are good swimmers, some are good at drawing, some are good speakers, some are good with people. Your signature enables you to move through these things almost effortlessly. Most of the time you are not really aware of how your signature enables you, you just do what you do.

Well, the grace of God is like that; it is there to enable you to grow in the likeness of Christ. But instead of working blindly with it, you are cognitively aware of it. You begin to identify those powers present in grace to work with grace. God makes a connection with the knowledge of Christ to His work in you. He reveals that to you, and you recognize that voice and work with it so you can overcome yourself, the world, and the devil.

Grace has many benefits that explode within the soul. Each of the 9 operations of God in grace is God's divine enablement to nourish and sustain your soul in Him. For example, the will that was weakened by the knowledge of this world is humbled to grace and made strong to choose to yield to God (operation #3 in God's grace). By this we now see how God uses grace to tame the brute beast of Adam's nature.

God's answer to the fallen nature of man is to give us grace and more grace. Let us take a look at what is happening between the soul and spirit of man under the influence of grace. God daily challenges Satan's claims on us in the same way He challenged Satan's claim on Jesus. The Spirit led Jesus into the wilderness to set the pattern for our overcoming. Resistance follows revelation and reward follows our obedience. God will give us daily opportunities to be fruit bearers in His kingdom.

Satan will challenge God's plan that we find equity in God only. The Enemy will provide knowledge to drive the soul to find equity in self, knowing that this will spark a war between soul and spirit.

The grace of God is issued to unite both soul (what you feel) and spirit (what you think) together in agreement with God (this equity is operation #4 in God's grace). Now grace rules the heart as peace buffers the soul. This is how powerful grace is and why grace has to work with peace.

Satan will challenge God's plan that we remain single minded. When the will is under the influence of false knowledge and vain imaginations, and the will is always torn between what the mind can agree with and what the soul wants to experience, the mind is not single in purpose, but sees a variety of goals in life as a means of fulfilling purpose and finding completion. The Spirit of God will address those things that are in need of healing.

Under the influence of God's revelation, communication, and manifestation of Christ, the mind becomes single in purpose as we continue in covenant with God (operation #5-6 in God's grace), remaining consistent to serve God in righteousness to bear the fruits of His kingdom.

If you want to be in that place where your relationship with God is meaningful, purposeful, and life giving, and you're overcoming the many wiles of Satan, then it's necessary to understand first of all that grace is the very core of your relationship with God. God issues grace to draw a response from us. That is an invitation to fellowship. A relationship is born with God upon the exchange of grace and faith.

The operation of God to use grace to draw faith from the heart of the sinner to come into covenant with God continues for a believer. God continues to issue grace is to a believer to draw faith from the heart. That's what you need and that's what you want and that's what God gives you as you daily labor with Jesus' spiritual tools.

Always remember – The signature is the travail of the flesh for this time, but grace is the labor of the kingdom to come, which is God's gift to bridge the time of sorrow.

Grace is God's Response to Satan's challenge to God's Work in You

When you are born again into God's family as His child, God begins reconstructive surgery of the soul. Satan changed (damaged) us so completely that when God begins to transform the soul to again reflect Him, we feel a stranger to ourselves. You still exist, but struggle to find yourself. It's in this struggle that Satan vexes the soul and directs the soul into the moral code, the signature, and God-Code to find self, which the Enemy knows will further distort your perception.

But at the altar of Christ, as grace flows through each sacrifice of knowledge offered, we begin to see Christ in His knowledge and see ourselves in His work; We see ourselves in Him.

Our soul was designed to express Christ, and nothing else. Jesus Christ is the Oath of all creation. Satan is the false oath.

Each issuance of grace touches you and becomes a part of your life, part of your thinking pattern; The new rhythm of life-from grace to faith to charity; Your new expectation and hope; Your new experience.

It's vital for the survival of your faith to come into an accurate and complete understanding of the grace of God and God's expectations for your labor with His grace. Having gained that understanding in this course, we can now understand Apostle Peter's teaching, "Grow in grace and in the knowledge of our Lord and Saviour Jesus Christ. To him be glory both now and forever. Amen" (2 Peter 3:18)

| | |
| --- | --- |
| | |