The Armor of God for Spiritual Warfare
Did the Apostles Talk About Spiritual Tools?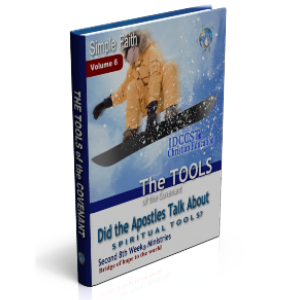 Lesson 6 of 12
The early apostles talked about the spiritual tools of Jesus in many ways. In his writings, Paul called them "things": "If ye then be risen with Christ, seek those "things" which are above, where Christ sitteth on the right hand of God," (Colossians 3:1).

What are the "things" that came from above that we, as believers, are to seek after?" Of course, they are the tokens of God's Second Covenant, the tools of our faith: Government, truth, Spirit; the gifts, callings, and graces of God; prayer, preaching, and prophecy. These are the things from above, which are in Christ Jesus, that God endowed with the Law of Grace and Truth.

We are to seek those things that keep us tethered to God, we are to seek those things wherein is the life of Christ, we are to seek those things that God provided for our labor of faith, for our contact with Him, whereby we may know Him.

The Tools Are The Commandments of Christ

Do you love Jesus? Jesus identified those who love Him as those who keep His commandments. Let's read about that in John 14:21: "He that hath my commandments, and keeps them, he it is that loves me: and he that loves me shall be loved of my Father, and I will love him, and will manifest myself to him." In the past that was a difficult challenge to identify with and observe, simply because Jesus' commandments were not clearly understood. We could not make the connection between Jesus' tools and His commandments, so we looked everywhere for commandments to keep and fell back under the condemnation of the Law of Moses. Let's learn more about John 14:21.

Jesus said two specific things in this verse that I want to draw to your attention:
1) That we show our love to Him by keeping His commandments, and
2) That when we do this, He in turn will manifest Himself to us.

The first point Jesus was making is that we cannot love God on our terms, but on His terms, which is how we see the word "covenant" brought out again. God establishes the terms by which He will engage us, and these terms are what He wants us to observe. These are the commandments we are to keep. When we express our love for God it must be on the same grounds as God expressed His love for us, which is Jesus Christ.

When God sprinkled the blood of Jesus on the Second Covenant tools He was signifying that Christ is in them and that we are to engage God now with these tools. There is no way to love God other than by the tools He provided for the expression of our faith. This is God's commandment to you: Love Me by exercising your faith with these tools that represent My Son.

Knowing that the Second Covenant tools are the commandments of Jesus Christ is important, for now our faith will no longer wander into the Law of Moses, looking for the commandment of God, and will no longer wander into the flesh, looking within ourselves for something worthy for God.
The second point that Jesus was making is that He promised to manifest Himself to us that we may know Him. Jesus is now in heaven, and we are upon earth. How can He manifest Himself? Here again we see the importance of the tools and how the apostles reflect this understanding in their epistles when teaching, "We know Him no more after the flesh" (2 Corinthians 5:16).

Jesus' spiritual TOOLS represent Him to the people and keep us in remembrance of Him. These things also represent our faith to God, that He would be in remembrance of us. God gives these tools to meet His standard. These tools are the first works God is returning the church to (Revelation 2:4-5).