The Armor of God for Spiritual Warfare
Jesus Our Contact Point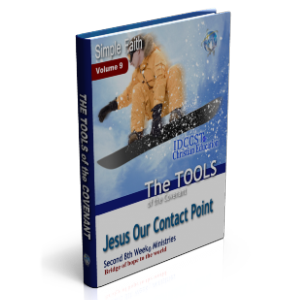 Lesson 9 of 12
What we will learn here is that Jesus Christ is the divine contact point for our faith and that when we exercise our faith with His tools, we are touching Him. If we look at the New Testament we find numerous examples of Jesus touching people, and as a result, they received healing and deliverance. By this God was establishing Jesus as our contact point.

It should not be a surprise that Jesus is our contact point. He is our Redeemer. He purchased our salvation and sealed it in His blood. Jesus is the New Covenant. Accepting that Jesus is our contact point, it should not be strange to think about our faith as "touching Him".

What can you expect to happen when you touch Him? Jesus showed us very clearly what happens when He is touched: you may recall the woman who came behind Jesus to touch Him and Jesus' reaction to that act of faith:

Mark 5:27-31
27. When she had heard of Jesus, came in the press behind, and TOUCHED his garment.
28. For she said, If I may TOUCH but his clothes, I shall be whole.
29. And straightway the fountain of her blood was dried up; and she felt in her body that she was healed of that plague.
30. And Jesus, immediately knowing in himself that VIRTUE had gone out of him, turned him about in the press, and said, Who TOUCHED my clothes?
31. And his disciples said unto him, Thou seest the multitude thronging thee, and sayest thou, Who TOUCHED me?
Why Did Jesus Draw Our Attention to This Act?

Many people touched Jesus every day and received healing. So, why did Jesus draw attention to this act? Jesus took this opportunity to teach His apostles these important points:
1. When faith touches Me, a divine reciprocation takes place: When you touch Me, you receive My virtue.
2. I am your contact point. Remain joined to Me.
Not knowing what the Second Covenant is, or how to build faith with the 12 elements of the gospel to reflect Christ, or how to use Jesus' tools, many look at these scriptures as Jesus teaching us how to raise our level of faith, or how to release our faith. It is man's inclination to look for lost keys in the sands of human need. Every time you have a need you run your hands through the sand looking for the keys to unlock your need. But where is it?
Are You Reading the Scriptures With a Carnal Eye?

When the carnal eye reads these scriptures about the woman who touched Jesus and was healed, the mind naturally turns to its own pressing needs: I need my problems resolved, I need a new body, a new mind—I need my son to understand me, my wife to leave me alone, my boss to give me a raise, etc. The carnal eye sees the woman as an example of how simple faith can be if only one has the right key. We can see here the battle that goes on in the mind when the mind remains carnal. The mind is a battlefield. The battle is about obtaining. The problem is, the mind is battling in the flesh, it sees only its own need.
But, if you remove out of the way all these carnal things that clutter your mind, what do you see? You see that the woman touched Jesus. Can you do that? Can you touch Jesus? Yes, you can, if you want to, that is. This is what Jesus was teaching us—just touch Me. Remain joined to Me, and a divine reciprocation will take place.
Jesus is now in heaven, and we are upon earth. How can we touch Him? God designed the tools of the Second Covenant as a means for us to touch Jesus. We see the apostles reflect this understanding in their epistles when teaching, "We know Him no more after the flesh," and, "By these ye might be partakers of the divine nature" and, "He that is joined to the Lord is one spirit" (2 Corinthians 5:16)(2 Peter 1:4)(1 Corinthians 6:17).
The woman who touched Jesus was physically healed when she joined her faith to Him. And today God still gives gifts of healing to the church. But do you know that
The covenant is the environment for spiritual healing to take place.

Daily, when you touch Jesus by using His tools, His virtue touches you to heal your soul. What is that virtue called? That virtue is called GRACE.
Finally, a holy union of faith takes place when we use Jesus' tools. It is through these spiritual tools that God provided a point of contact that we may show our submission to His grace.