The Armor of God for Spiritual Warfare
Getting a Fresh Start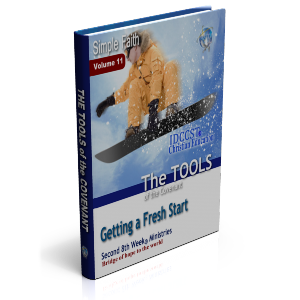 Lesson 11 of 12
Common words you read in the Bible now hold new meaning: "token", "rainbow", "promise", "sanctified", physical & spiritual "things", "tether" , " sprinkled with blood", "works", "first love", and "virtue". These are words God uses to describe the reality of Jesus Christ and His plan that you experience Him. We need to have the same understanding about these things as God and place the same spiritual value on them that He does. God is so confident that His plan works that He did not make any other plan for the church to experience the work of His Son in the heart. His plan works! His plan is that we use His tools to experience Him. It really is that simple.
Scriptures

(Genesis 9:11-17); (Hebrews 9:18-21); (Hebrews 9:1-14); (Hebrews 9:12); (2 Corinthians 5:16); (John 4:24); (John 6:63; (2 Corinthians 10:4); (James 2:22); (Exodus 26:1); (1 Corinthians 3:16); (Hebrews 13:9-10); (Hebrews 4:16); (Luke 19:12-24); (Romans 7:12); (John 14:6); (Hebrews 10:3-4); (Romans 3:20); (Colossians 3:1); (John 14:21); (Revelation 2:4-5); (Ephesians 2:8-9); (James 2:26); (Exodus 25:17-22); (Hebrews 9:4); (Titus 3:5); (John 17:3); (James 2:20); (Mark 5:27-31); (2 Peter 1:4); (1 Corinthians 1:17); (Romans 14:23), (Ephesians 4:24), (Hebrews 10:20), (Romans 6:19); (2 Peter 3:18)
Supporting Scriptures

God has given us all things: "According as his divine power hath given unto us all things that pertain unto life and godliness, through the knowledge of him that hath called us to glory and virtue," (2 Peter 1:3).
Man is justified by faith and works: "Ye see then how that by works a man is justified, and not by faith only," (James 2:24).
The Tools are our Armour: "The night is far spent, the day is at hand: let us therefore cast off the works of darkness, and let us put on the armour of light," (Romans 13:12).
Making Simple Connections

1. Proper understanding of the tools and works of the covenant of Jesus Christ help us make the connection to the knowledge of Christ and the stability of the soul; the knowledge of Christ and the substance the soul needs for completion. You know that God desires to give substance to the soul. Knowledge makes that distinction for us.
2. You have to allow that knowledge to influence us, to direct us. It is only then that knowledge will yield an experience of Christ. That is your sanctification (separation from the world and preparation for service) because God is drawing you into that.
3. You set a course according to what you value. If you value the experience God is giving you, then you don't need to find completion in anything else. God would say, "What is it that you are lacking from Me that you are seeking something else?"
4. We can understand the importance of the tools. God is joining us to Him by this tether. This contact is necessary to reciprocate His likeness.
5. If we can understand the connection between the tools of the covenant and the grace of God we can understand true humility. We show submission to God by using Jesus' tools. Our charity is then an expression of His grace.