Why the Church Needs Apostles Today
Knowledge Needs a Frame
Lesson 3 of 14
Where Christ is preached a tethering of knowledge takes place that carries the living expression of Jesus Christ. Why a tethering of knowledge? Because God has bound Himself to His Word, to carry all those of faith by this knowledge of Christ. Ours souls are renewed and refreshed by knowledge.
God's knowledge must not be as a pile of wood sitting on the ground. Otherwise, it will be of no use to you or to God. Just like wood takes the frame of a house for you to function in the house, so also knowledge must take a frame for you to function in God's kingdom.
When wood takes the frame of a house you can enter into the house and use all of its functions freely. You can cook and eat your meals in the house, be warmed, have light, take rest, and enjoy companionship. You can cleanse yourself, work, and play in the house. In addition, when you move into your house you bring with you all your precious things and fill your house with your substance. Can you see? The frame is for function, and the result of that function is substance by which you increase.
God's knowledge is that way. The frame of knowledge (the 12 Elements of the Gospel) is designed by God for you to function in His kingdom that He may fill your soul with His substance by which you increase. The knowledge we embrace produces substance in the heart.
In the previous lesson we talked about "substance". We said that when God talks about substance He is first emphasizing "contents". Knowledge holds the contents (substance) faith needs to work with to be pleasing to God. In addition, when God talks about substance He is speaking of His desire to fill your soul with the fruit of Christ. He desires to beautify the house of your soul with the virtues of Christ. This is what God calls giving "substance" to your soul.
Just as God instructed Moses to build a tabernacle (a house) for Him in which the Israelites were to practice their faith, in the same way we have to build a spiritual house or temple for the Lord in which to practice our faith. Faith needs a house in which to function. Without the knowledge we will not be able to function in God's house.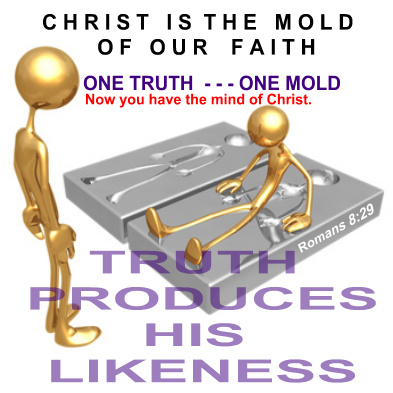 Another way to look at this is to think of the knowledge of Christ as a mold into which God pours your faith. The mold is for the purpose of preserving the image of Christ, and that you take on His likeness (Galatians 4:19). God is not producing "robots". He is producing children according to the likeness of Christ.
It is a well known fact in the world that knowledge shapes the mind. So that is something that is commonly understood and accepted. Should it seem strange to you that God also would like to give knowledge to shape you into the image of Christ? There are a few objections to God using one standard of knowledge to accomplish this. People are afraid of losing their individuality.
Don't worry, God does not rob you of your individuality. This will become clear to you as you begin to experience the life of Christ according to covenant. When people focus on their individuality, it is because they do not know how faith functions. Take for example the apple tree. The tree does not look at its neighbor and say, "You look too much like me, I don't feel like an individual anymore. Your branches look like my branches, your leaves look like my leaves, and your fruit looks like my fruit." The trees of the orchard are not in competition with each other. It is humans that want to set themselves apart for the purpose of identifying themselves.
God gave us Jesus Christ as a gift of salvation that we might all identify with Him. There is no completion for the branches of His tree because all His branches are focused on their function, to bear fruit. In the natural, every part of the tree has a function towards the production of fruit. The form of the leaves of the tree, for example, is related to all their functions. Leaves turn sunlight into food energy for the tree. Roots fulfill their function by anchoring the tree to the soil and absorbing water and soil minerals needed for growth.
Now take that to the covenant. Each of the 12 Elements of the Gospel and each tool of the covenant has a function towards the production of the fruit of Christ in you. The purpose of your faith is that Christ be formed in you. The purpose of knowledge is to bring you into one mind with Christ even as Paul said, "Fulfil ye my joy, that ye be likeminded, having the same love, being of one accord, of one mind," (Philippians 2:2). And, "Now I beseech you, brethren, by the name of our Lord Jesus Christ, that ye all speak the same thing, and that there be no divisions among you; but that ye be perfectly joined together in the same mind and in the same judgment," (1 Corinthians 1:10). This like mindedness describes the unity of the faith when we all embrace the same knowledge of Christ. Knowledge is the mold of Christ.

Knowledge Stewards

The question is, who are the stewards to whom God entrusts His knowledge to give it to the church? Here is where church government comes in. Just as Moses had to teach the Israelites how to function in faith in the tabernacle, the apostles today teach the church the knowledge of how to function in our spiritual temple so we can please God.

By the knowledge of Christ we are enabled to enter into this house and use all of its functions freely. "Know ye not that your body is the temple of the Holy Ghost which is in you," (1 Corinthians 6:19). We can now understand what a knowledge steward is and why they are important to God. Moses was the knowledge steward of the First Covenant, apostles are the knowledge stewards of the Second (New) Covenant.

The frame of God's knowledge begins with the foundation of truth, which, as we have been saying, is the 12 Elements of the Gospel: grace, faith, righteousness, justification, sanctification, holiness, peace, rest, charity, truth, regeneration, and the renewing of the mind. Your studies with Second 8th Week Ministries will build this foundation of truth in your heart.

Holy knowledge

The knowledge of Christ is holy because it reflects Jesus Christ perfectly, it is holy because it is separated from all other knowledge, it does not follow the wisdom of the world, nor the spirit of this world.

Holy knowledge is the truth of Jesus Christ. God sanctified (separated for purpose) His truth for our salvation. (1 Timothy 2:4) reads, "Who will have all men to be saved, and to come unto the knowledge of the truth." Sinners need knowledge to be saved, and believers need knowledge to live unto God and grow in His grace.
If false knowledge is a token of death then God's holy knowledge is a token of life. It is the divine knowledge of His kingdom. It is necessary for your faith. By joining yourself to it, Jesus takes ownership of you. That means that you are part of His sanctification. Jesus said, I sanctify Myself. We read this in (John 17:19), where He says, "And for their sakes I sanctify Myself, that they also might be sanctified through the truth." Jesus was saying to the Father, "I separate Myself to your will to accomplish your will. What I accomplish on the cross to establish a covenant in My blood is My sanctification, that those who believe on Me, would also enter into My sanctification, and also partake of you as I partake of you. I offer Myself as a token of their separation to you. That I would be the token of faith for all those who believe and show faith through My name."

We can understand that as Jesus sanctified Himself to the Father, so also His truth is sanctified—it is holy. This means that His knowledge is separate from all other knowledge, and that when we separate ourselves to it, we also are sanctified through truth. This is why knowledge is a token and why government is a token, because the knowledge of Christ is dispensed through the government.

Jesus passed the cup for all his apostles to drink, showing us that we are all to partake of the same knowledge. When the apostles drank the wine that Jesus poured into the cup, they were coming into agreement with His sanctification. Jesus was showing that when I am gone they will carry this same tradition of knowledge and pass it on to the church.

To abandon the token of knowledge is to abandon your sanctification. That makes you a child of wrath and the children of wrath are being smitten by God so that they would cry out and that they would enter into His sanctification -- covenant with Him.

Ordered knowledge

God sets order to the knowledge of Jesus Christ. God sets in order our understanding about grace and faith, righteousness, justification, sanctification, holiness, the gifts of the Spirit and how they operation, the devil and how he operates, how spiritual growth takes place, how Jesus mediates the covenant, how the Spirit forms Christ within. Knowledge that is not ordered by the Lord follows the logic of man and the wisdom of the world. Knowledge that is not set in order does not reflect Christ.

As you study the 12 Elements of the Gospel your understanding of Jesus Christ and the power of salvation is being set in order. God is placing in you the same mind as He has so that your fellowship is on the same level. He will save, heal, and deliver. When the knowledge of God is not set in order there is a lack of unity in the church and believers do not experience the life of Christ setting them free of sin.
| | |
| --- | --- |
| | |