Why the Church Needs Apostles Today
Understanding Lack of Unity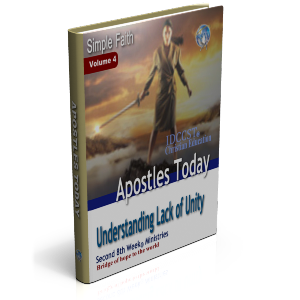 Lesson 4 of 14
If we were to take a sample of Christians from all different denominations and assembly them in one room and ask them to explain basic questions about their faith: what grace is, what faith is, what truth is, what the Second Covenant is, which law works righteousness, is tongues for today, and what spiritual warfare is all about, you are sure to get a lot of different answers and heated debates.

It will soon become clear that in the absence of apostles, Christians are not unified in one faith. If we were to ask this same group of Christians to explain further how their faith works, what they can expect to happen, and how they know when spiritual operations are taking place: Do you know what to do with your faith? Do you understand faith in the context of spiritual growth? Do you understand how to reciprocate your faith? Do you understand how to function in your priesthood? You are sure to get a lot of more heated debates, ideas, philosophies, and some blank looks as well.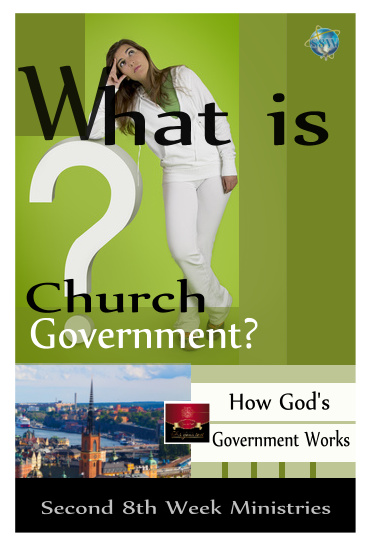 It is no coincidence that this confusion has given rise to the question, "What is church government?" God is in the process of awaking the church to His true purpose for church government, to know that when apostles are not teaching the church, Christians cannot make the simple connections they need to make for their faith. The Bible says that when the government is sick the body is sick. Let us consider what the Spirit of the Lord says through Isaiah:

Isaiah 1:5-7
5. Why should ye be stricken anymore? ye will revolt more and more: the whole head is sick, and the whole heart faint.
6. From the sole of the foot even unto the head there is no soundness in it; but wounds, and bruises, and putrefying sores: they have not been closed, neither bound up, neither mollified with ointment.
7 . Your country is desolate, your cities are burned with fire: your land, strangers devour it in your presence, and it is desolate, as overthrown by strangers.

When we relate the condition of Israel at that time to the church today it is clear to see that the same thing applies. When the government of God (head) is sick (lacking the true stewardship of apostles), the heart of the body is faint, lacking the nourishment, wisdom, strength, and soundness that God gives the Body when church government is properly structured. Remember that every time you do not know how faith works you are describing a faith that is blind and a church without proper government.

This is God's will: The unity of the Body. "There is one body, and one Spirit, even as ye are called in one hope of your calling; One Lord, one faith, one baptism," (Ephesians 4:3-5). Apostles are designed by God to bring the church into one faith—one doctrine. That is their function.

This is God's will: That the church continue to receive doctrine from living apostles. (Acts 2:42), "And they (all believers) continued steadfastly in the apostles' doctrine and fellowship." God put apostles in this mold, to bring the church into the fellowship of one doctrine.

There are many ways in which a person will pretend to accept a thing, yet work to reject it. We see this take place in many apostolic movements today. While appearing to accept apostles, most assign them to function as group mentors, or the builders of large physical structures, or missionaries, or organizers, and continue to excuse and justify diversity of doctrine. Thus, rejecting God's true purpose for apostles.

As a result, truth is absent from faith, the foundation of truth is not being built, and from the sole of the foot even unto the head there is no soundness in the church, but wounds, and bruises, and putrefying sores that have never been bound up, neither mollified with ointment.

Apostles have one purpose—to unify the Body in one truth. So, whether Paul planted the seed of truth and Apollos watered the seed of truth, both were teaching the same truth. This is not diversity, this is the unity of the faith. Truth is the ointment of the Spirit to bring healing to the Body.
| | |
| --- | --- |
| | |