Christian Priesthood Defined
Getting a Fresh Start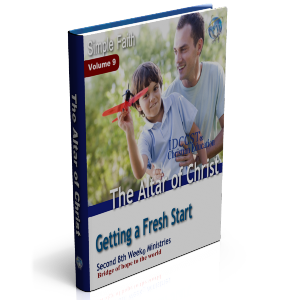 Lesson 9 of 11
Common words you read in the Bible now hold new meaning. Learn wht the Bible says about "worship", "altar", "stone", "sacrifice", "priesthood", "tabernacle", "worship", "vain worship", "praise". These are words God uses to describe the reality of Jesus Christ for the New Testament church and His plan by which you may experience Him. God wants to reshape your thinking about your faith and worship and your Christian priesthood.
Perhaps you were used to thinking about repentance when you thought about an altar, or perhaps you were used to thinking about the Old Testament priests when you read about priests in the New Testament, and wondered how Christians can be priests. The simple truth about the altar of Christ is that, just as each stone of the altar holds the image of Christ and so is a living stone, so also, as these stones are placed in us, we become the living stones of His temple.
The Word of God is the language of the Spirit by which we commune with Him. Perhaps you used to commune with God about your problems and the affairs of life. Now you can understand that the altar of Christ is the place where we serve God through knowledge and that the altar of Christ joins us to God.
You now understand that it the altar, being that of His knowledge, conforms our thinking to Christ. Your practice identifies your religion. We practice Christ as His altar. He is our tradition.
Perhaps you used to think about your skills, talents, and signature skills as worthy things you could use to unit you to Christ to build the Body through these things you could offer. Now you can see that God does not honor man—He honors Christ. The altar is where we are united with Christ to build the Body through His knowledge.
Scriptures: 2 Chronicles 15:3-6
,8;
Matthew 21:19-21
;
John 4:24; John 14:6; Hebrews 13:10;
1 Peter 2:5,9; Hebrews 11:1;
John 4:22;
Romans 12:1;
Hebrews 13:16; 1 Peter 4:10; Philippians 4:18;
1 Kings 18:31-38; 2 Peter 1:4-5; 2 John 1:9; Deuteronomu.27:6; Joshua 8:31; Hebrews 12:2; 1 Timothy 6:3; Genesis 12:1-3; Exodus 19:5, 6; John 6:48,51; Matthew 4:4; Revelation 19:10; Hosea 4:1; Ezekiel 44:28-30; 1 Corinthians 9:13; John 6:55-57; John.6:63; 2 Peter 1:3-4; Deuteronomy 6:8; Hebrews 8:10-11; Matthew 23:19; Ezekiel 44:23; Matthew 15:9; Ezekiel 44:23; Acts 3:21; Exodus15:27; John 12:13; Exodus15:27; John 12:13; John 10:9; In Exodus 13:14 and Joshua 22:27-28; Leviticus 17:1-5; Exodus 36:33; John 17:8; James 5:9
1. True worship takes place at an altar: "For we are the circumcision, which worship God in the Spirit, and rejoice in Christ Jesus, and have no confidence in the flesh," Philippians 3:3. The virtue of God is for us to praise Him with, that we worship God with the very virtue that He possesses. This virtue is in Christ, Christ is in the knowledge, and the knowledge is put within the stone, and the stone is placed in the altar. We worship God at an altar of knowledge. This is true spiritual worship.
2. True praise is at the altar of Christ's knowledge where the knowledge reflects the fruits of righteousness by which we praise God. Even as Paul wrote, "Being filled with the fruits of righteousness, which are by Jesus Christ, unto the glory and praise of God," (Philippians 1:11).
3. It is at the altar that we speak the truth of Christ, having these stones of His grace set in order in the heart. Even as Paul taught, "But speaking the truth in love, may grow up into him in all things, which is the head, even Christ," (Ephesians 4:15).
Making Simple Connections
1.. Proper understanding of the Second Covenant allows you to live the life of Jesus Christ. By making simple connections between the altar of Christ and His knowledge and His virtue we can understand faith as the exercise of that virtue and why faith pleases God. To please God we must reflect His likeness. Faith joined to the altar of Christ reflects the likeness of Christ in the soul.
2. Proper understanding of the Second Covenant altar allows you to make simple connections between your responsibility of faith and the testimony of Christ. It is at the altar where God establishes His testimony in you. By the joining of this revelation (knowledge) to your faith a transition takes place in the perception of man, from death to life. We stand in Christ when we stand in this knowledge—in this testimony.
3. By establishing your service to God at the altar of Christ you are making Him your Lord. Jesus is the true token from heaven that we honor as grace directs our thoughts to build with His knowledge. He is the frame of our thoughts.