The Apostles of Jesus Teach the Church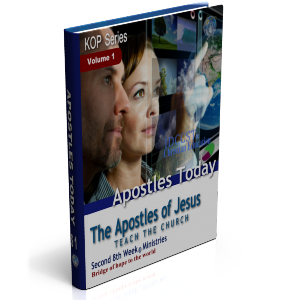 Lesson 1 of 13
There are those who separate themselves from the institutional church and falsely think that they will study the Bible at home and learn of the Spirit and thus cleanse themselves of those things that defiled their faith; after all, Jesus said that when the Comforter comes,
"he shall teach you all things"
(John 14:26), but by their neglect to finish that verse, they show their lack of understanding:
"he shall teach you all things, and bring all things to your remembrance, whatsoever I have said unto you."
Here Jesus was not speaking about a one-on-one private tutorship between the believer and the Spirit, for Peter said.
"
no prophecy of the scripture is of any private interpretation"(2 Peter 1:20). No, Jesus was not speaking to individual Christians about private tutorship, but he was speaking to His apostles, beginning with John chapter 13, teaching and instructing them up to and including chapter 17. So, in speaking of the Holy Ghost there in John 14:26, the Comforter, whom the Father would send, he was saying that the Holy Ghost would teach them (the apostles) all things, and bring to their remembrance also all things which he had personally taught them while with them on earth.
Jesus had in mind that His apostles would teach and instruct the church in doctrine. And this is what took place, "And they continued steadfastly in the apostles' doctrine and fellowship, and in breaking of bread, and in prayers" (Acts 2:42). A return to the book of Acts is a return to this pattern of Jesus giving one truth to the church through apostles. This is true church government.
Realizing that the church deviated from that pattern, we can understand that when Christians come out from the institutional church, they come out carrying with them the precept of man, doctrines that have centered on man's needs, lusts, and desires, not the truth which Jesus gave to His apostles. It is important to come back to the understanding that the Holy Spirit will only bear witness to truth that proceeds from the headship of Christ as taught by His apostles. Look again at what Jesus said to His apostles about the Spirit in John 15:26: "But when the Comforter is come, whom I will send unto you from the Father, even the Spirit of truth, which proceeds from the Father, he shall testify of me."
The Holy Spirit will not testify or confirm anything that proceeds from the flesh, whether human wisdom and private interpretations of scripture (1 Corinthians 1:20,21), aspirations of faith, or worldly philosophies and inspirations. So, if believers are carrying this false knowledge with them when they separate themselves from the church, they must be cleansed, washed by truth, the truth Jesus gave to His apostles and the truth to which the Spirit bears witness.
While believers can assess failure of the church through their own observation and experiences, they cannot reconstruct their faith. Despite their best efforts to cleanse themselves of false doctrine and transition themselves into truth, Christians soon find that they are right back where they started. Apart from the oversight that Jesus provides through His spiritual government, they merely trade one form of darkness for another, having not the accurate teaching and understanding, which Jesus gave to His apostles, of Himself and His gospel.
Now, God is a compassionate God; He has been a comfort in times of afflictions, and He has answered many prayers. But it is time for the Body of Christ to come together in one faith and one mind, by one and the same Spirit in the truth of Jesus Christ, without division, so that they can grow up into the fullness of Christ (1 Corinthians 1:10).
God is transitioning the church from the stewardship of the precept of man to the stewardship of Jesus' truth and from the stewardship of faith paradoxes to the stewardship of the reality of Christ. This is the apostolic pattern.