The Christian Faith is Defined by Covenant
Is the New Testament the Second Covenant?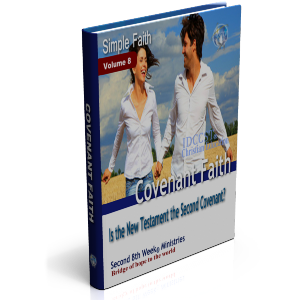 Lesson 8 of 13
Is the New Testament the Second Covenant? Yes, the New Testament is the Second Covenant. God uses the word testament and covenant interchangeably. When Jesus said, "This is my blood of the NEW TESTAMENT," (Matthew 26:28), He was establishing a New Covenant in Himself.

Hebrews 8:7-8
7. For if that First Covenant had been faultless, then should no place have been sought for the second [covenant].
8. For finding fault with them, he saith, Behold, the days come, saith the Lord, when I will make a new covenant with the house of Israel and with the house of Judah.

The FIRST COVENANT was established through Moses (Mosaic Law).

The SECOND COVENANT was established through Jesus Christ (Covenant of Grace).

Hebrews 10: 9, 19-20
9. Then said he, Lo, I come to do thy will, O God. He taketh away the first [covenant], that he may establish the second [covenant].
19. Having therefore, brethren, boldness to enter into the holiest by the blood of Jesus,
20. By a new and living way, which he hath consecrated for us, through the veil, that is to say, his flesh.

It is important for you to know the new and living way to serve God through our Lord, Jesus Christ. Therefore, it is important for you to know the differences between the First Covenant and the Second Covenant and what that means for your faith. What does God expect from you now that you believe in Jesus Christ? How is your faith to be expressed? Are you to express Moses or Jesus?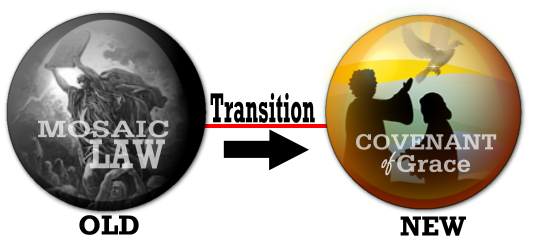 Apostles today teach about the Covenant of Grace

It will take several courses for you to learn the differences between the First and Second Covenant, to make these distinctions in your faith and transition into the Second Covenant, and to understand how the covenant transitioned from Moses to Jesus Christ. These are some of the coming helpful topics that will be covered in your Covenant Transition Courses:
Why the law of the Second Covenant is different than the law of the First Covenant.
Why the tools of the Second Covenant are different than the tools of the First Covenant.
The common mistakes that most well-intentioned Christians make that actually worsens their faith.
How to respond to God's invitation to come into covenant with Him.
Finally, how do you respond to someone who insists upon using the principles of the Old Testament to validate their faith? Respond by telling them that God used the law of Moses to bring contrast and hope. For the pattern of our redemption was found in the tools of the First Covenant, concealing Christ and His pattern that was to come, which is our hope.

Does the New Testament Replace the Old Testament?

Yes, the New Testament replaced the Old Testament. The Bible says that Jesus transferred the covenant of Moses to Himself. Let's read those scriptures from the gospel of Luke: "And He [Jesus] took bread, and gave thanks, and brake it, and gave unto them, saying, This is my body which is given for you: this do in remembrance of me" (Luke 22:19). By doing this Jesus was transitioning the covenant to Himself and revealing: "You are to remember Me now, not Moses."

The Bible says that the Second Covenant is the better Covenant: He [Jesus] is the mediator of a BETTER covenant, which was establishe upon BETTER promises (Hebrews 8:6).

Finally, we have the scriptures in Hebrews 10:9, "Then said he, Lo, I come to do thy will, O God. He taketh away the first [covenant], that he may establish the second [covenant]."
| | |
| --- | --- |
| | |