A Return to True Apostolic Governance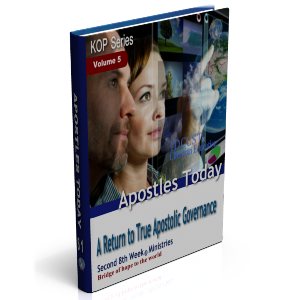 Lesson 5 of 13
It is of utmost importance that the Body of Christ return to true Apostolic Governance and come unto the knowledge of the truth, for truth prepares the heart to serve and worship God. This is the true church.
We all know John 4:23 and 24, that God is looking for them that will worship Him in spirit and in truth. We also now know that the Spirit will only testify of the truth (Jesus Christ) Therefore, if truth is absent from us, the Spirit will also be absent, having nothing to testify to; for the Spirit will not quicken what proceeds from man because it profits nothing (carries no substance of the life and righteousness of Christ) to the soul. The Spirit will quicken faith and give understanding only through the truth (John 6:63) which is spiritually discerned (1 Corinthians 2:14) and is why we must receive the Word of grace through the apostles' doctrine (Ephesians 3:2-4).
We cannot serve God with truth that is defiled for then faith is defiled and we are not worthy of Christ, as Jesus said, "Thou hast a few names even in Sardis which have not defiled their garments; and they shall walk with me in white: for they are worthy" (Revelation 3:4).
To understand this better let's look at the words of the prophet Haggai:
Haggai 2:12-14
12If one bear holy flesh in the skirt of his garment, and with his skirt do touch bread, or pottage, or wine, or oil, or any meat, shall it be holy? And the priests answered and said, No.
13Then said Haggai, If one that is unclean by a dead body touch any of these, shall it be unclean? And the priests answered and said, It shall be unclean.
14Then answered Haggai, and said, So is this people, and so is this nation before me, saith the Lord; and so is every work of their hands; and that which they offer there is unclean.
The Word of God is holy and Jesus' shed blood for the forgiveness of sins is holy, but we cannot apply these to human aspiration and carnal tools of faith to make them holy. Equally important, when one embraces truth that is not from the headship of Christ, his heart takes
confidence in the Gospel of the Flesh and every endeavor of faith is unclean, all the works of faith are unclean, and all he offers to God is unclean.
Returning to Apostolic Governance and truth that proceeds from the apostles office means that a cleansing has to take place. The soul that has been indoctrinated by the false teachings of men, must be cleansed by truth, for truth purges the soul (1 Corinthians 5:7,8), Faith that is acceptable to God comes by truth (Romans 10:17), by both hearing and obeying (James 1:22).
How can believers obey the truth and be purified, if they have not received the cleansing of the truth (1 Peter 1:22)? This is why God has restored the office and calling of apostles, those selected, ordained, called, and sent by God to preach the truth of the gospel of Jesus Christ (1 Corinthians 1:17), to open the eyes of believers that they might be sanctified in Christ (Acts 26:18) through obedience to His truth (Hebrews 5:9,13:17) and build the kingdom of God upon the foundation of His truth as wise master builders.