The Christian Faith is Defined by Covenant
Believers in Christ Accept the Yoke of Jesus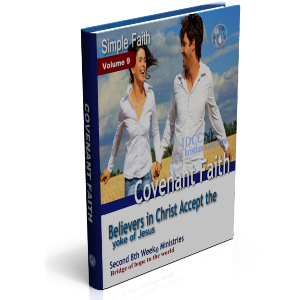 Lesson 9 of 13
28. Come unto me, all ye that labour and are heavy laden, and I will give you rest.
29. Take my YOKE upon you, and learn of me; for I am meek and lowly in heart: and ye shall find rest unto your souls.
30. For my YOKE is easy, and my burden is light.
A yoke is a beam, which is used between a pair of oxen that allows them to pull a load. God uses this symbolism to bring two important things to our attention:
First:
That man is to labor with God's knowledge and tools.
Second:
Man is incapable of directing his own faith. God desires to direct your faith, and He does so by setting restrictions upon faith, which test your love for Him. The stiff necked refuse the yoke of God, refusing the knowledge and tools God uses to direct faith.
We read about the yoke of Moses in the book of Hebrews. God gave Moses the pattern of faith the children of Israel were to observe, for He said to Moses, "See that thou make all things according to the pattern shewed to thee in the mount" (Hebrews 8:5). There is a connection between the yoke and the pattern of faith. The people were to yoke themselves to (LABOR WITH) the knowledge, tools, and commandments of Moses to show faith in God.
What Covenant is Your Faith Yoked to?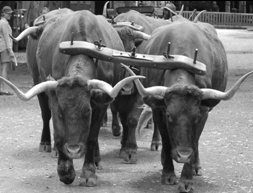 Jesus' words in Matthew 11:28-30 teaches us that everything of Christ (His knowledge and His tools) are His yoke. His yoke is different than the yoke of Moses. Just as God gave Moses the pattern of
knowledge and the tools to give to the people, Jesus gave the pattern of His knowledge and His tools to His APOSTLES to give to the church.
According to the grace of God which is given unto me, as a wise MASTERBUILDER, I have laid the foundation. . .
Christians are now to yoke themselves (to labor with)
the knowledge, tools, and commandments of Jesus to show faith in God.
The yoke of Moses was a heavy burden to bear, as Peter testified to, saying, "Now therefore why tempt ye God, to put a yoke upon the neck of the disciples, which neither our fathers nor we were able to bear?" (Acts 15:10).
In contrast, Jesus said that His YOKE is easy, and His burden is light. The problem is that most Christians do not know what the yoke of Jesus is, and continue to yoke themselves to Moses.
It is quite common to hear Christians cast off the yoke of Christ by saying, "God accepts me the way I am," and "My salvation is free", and, "I cannot give God anything, and therefore salvation is free of works."
Isn't it wonderful that redemption through Jesus Christ is freely offered by God to all who believe? But the idea that salvation is freely given somehow got translated into meaning that "God accepts you the way you are." And while it is true that we come to Jesus without the need to first "clean up our lives", note that God is not accepting us as we are—without His grace. God is accepting our faith, which is drawn by His grace. So, here are a few things I would like you to consider
:
First: God does not accept you the way you are—He accepts you on the terms of His covenant, for which Jesus shed His blood.
Second: Salvation is free—but it is not free of responsibility. God holds each of us responsible to the terms of His covenant because He is in expectation of our increase in His kingdom.
Third:
There are 2 kinds of works we
need to review in this course: (1) The works of debt, which are connected to the covenant of Moses, (2) the works of life, which are connected to the covenant of Christ.